At The Healing Sole, we believe that every person experiencing pain can find relief on his or her own terms without always being forced to seek surgical treatment or spending excessive amounts of money. We empower our wearers to find success that is simple and blends seamlessly into their busy schedules.
These are the values built into the foundation of our company by Dr. Meredith Warner, the founder of The Healing Sole. It is well-known that there are great minds behind every great product – and we want you to get to know the brain behind our company, our product, and our values.
---
---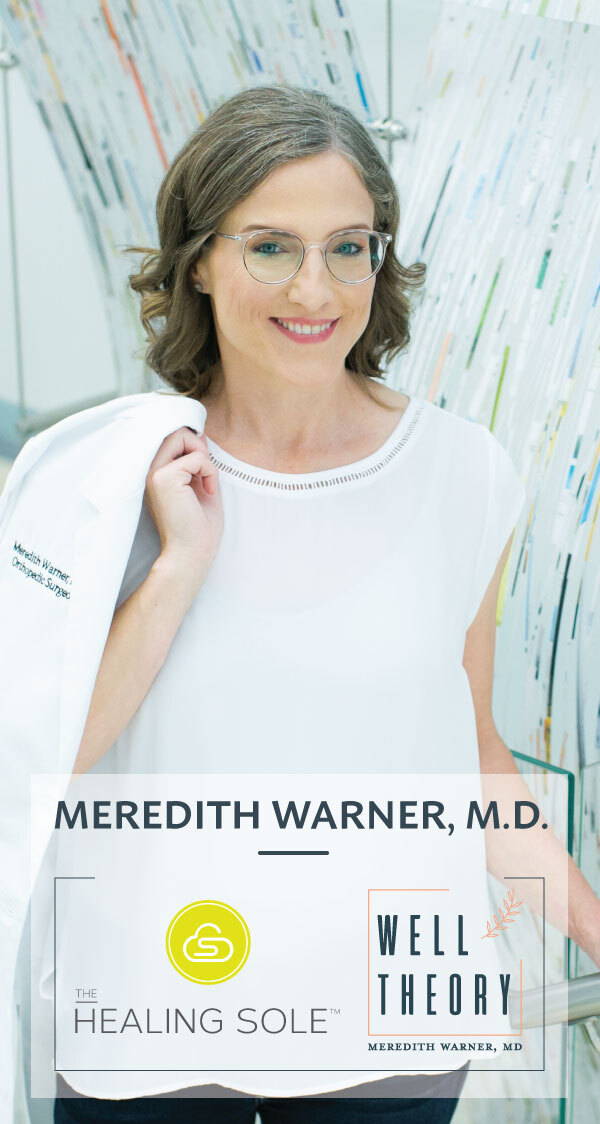 Dr. Warner is a board-certified orthopedic surgeon and she is also fellowship-trained in foot and ankle orthopedic surgery. In 2013, Dr. Warner founded her own private practice in Baton Rouge, Louisiana where she sees and treats countless patients for foot and ankle ailments, general foot pain, spinal issues, and work injuries. She also provides mentorship and teaching for young surgeons at the LSU Department of Orthopedic Surgery and for residents in podiatric surgery at East Jefferson Podiatry.  
Dr. Warner has always been passionate about treating orthopedic conditions in the best and safest manner possible. Before settling in Louisiana and opening her private practice, Dr. Warner spent four years of active duty as a Major in the United States Air Force. During this time she deployed to both Iraq and Afghanistan where she performed combat surgery. She received her undergraduate education from the University of Delaware's Medical Scholars Program, her medical degree from the Thomas Jefferson Medical College of Philadelphia (now the Kimmel Center).  
After graduating from medical school, she accomplished her training in orthopedic surgery at The Tulane University in New Orleans, Louisiana. Then, she went on to The University of Texas, Medical Branch and received her fellowship training in foot and ankle surgery. At that point, she began her active duty service and was posted as a faculty surgeon for The Wilford Hall Medical Center in San Antonio TX. Here, she trained future surgeons for the United States Air Force and also served in two combat missions.  
Following this extensive education and active service, Dr. Warner settled in Louisiana with her family to focus on helping patients overcome pain. Her treatment style is centered on the body's naturally-ingrained ability to heal, and she helps patients seek non-invasive methods of treatment before considering surgical intervention.
Dr. Warner has a deep knowledge of the fascial interconnections of the human musculoskeletal system and the extensive and complex biomechanics that work in concert with the hormonal, metabolic, and neurologic systems that allow for the beautiful movements and function of the human body. She is passionate about helping others return to the professions, activities, families, friends, and lifestyles that they enjoy as quickly and efficiently as possible.
---
HOW THE HEALING SOLE BEGAN
---
At Dr. Warner's practice, Warner Orthopedics & Wellness, she has treated countless men and women plagued by painful orthopedic conditions to include foot pain. Dr. Warner saw that many patients had been prescribed addictive or dangerous pharmaceuticals or given injections of synthetic chemicals for relief. Some patients had even been told that surgery was necessary when there were still other options available. She knew that the body was equipped to heal naturally, especially when paired with the proper tools to aid in relief – and that's when The Healing Sole was born.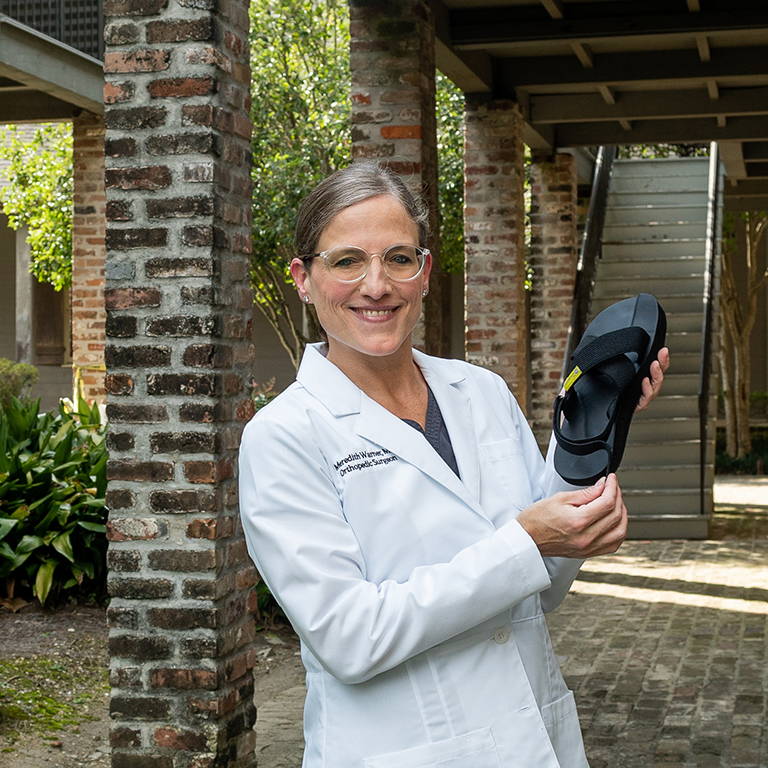 Dr. Warner designed The Healing Sole using effective, time-honored, and clinically proven methods of pain relief. After thinking about the unsolved problem of basic foot pain for some time, she thoughtfully combined many of these methods into a simple and reusable device that would empower her patients to help themselves. She also wanted to allow the common flip flop to be the initial vehicle that would provide relief. It was a common desire for many of her patients to wear this sort of sandal.
She paired a rocker bottom sole with raised arch support, a metatarsal bar, and a heel that allows for gentle compression at the greatest area of pressure in the heel. The flip flop also incorporated the ability to provide low-strain stretch to the foot and heel. Together, these features help to take away pain and stress, support and protect the feet, and engage muscles throughout the foot and legs to promote strength and tension-relief.
Dr. Warner knew that each feature of The Healing Sole was able to treat foot pain, but these features were more powerful synergistically fused in her careful design then they could ever be alone. Now, those with debilitating foot pain can find a solution without countless doctor visits, medications, or surgeries.
"We physicians are not taught to empower our patients to take care of themselves. This goes against all of the business models in modern healthcare. This has bothered me for many years about my profession.
I have always believed in the concept that teaching a person to fish is better than giving them the fish to eat. The Healing Sole allows my patients and community to take care of themselves and their families effectively, conveniently, and safely.
I am thrilled and honored by the results of this simple product and by the thousands of people that have found relief from everyday foot pain and are functioning at home and work while using The Healing Sole."
- Dr. Meredith Warner
At The Healing Sole, we don't just say that our footwear can help you to walk without pain. This purpose is in the design of our shoes and the very soul of our company. Pain relief, health, vitality, and optimal function and wellness within an empowered lifestyle is the purpose that drives us forward. From every customer interaction, every shoe style developed, and every success story that comes from our wearers, we find inspiration to continue our mission of total wellness.
---
FIND RELIEF ON YOUR OWN TERMS
---
If you are seeking relief from foot pain, recovery of the health of your feet or simply footwear that respects the anatomy of the foot, The Healing Sole is your solution. We offer flip flops and sandals for those suffering from plantar fasciitis, Achilles tendonitis, Morton's neuroma, arthritis, and other conditions, and we have a wide variety of colors and styles in development.
Our footwear is designed to meet your needs, no matter your lifestyle or schedule. Whether you spend long hours on your feet at work, looking for recovery after playing sports, or are just busy chasing little ones around, The Healing Sole can mesh easily into your routine. Simply slide into our flip flops when you first wake up in the morning and wear them again at the end of your day. Just a few hours each day allows our footwear to work their magic – but you can wear them all day after breaking them in, too!
If you are ready to give The Healing Sole a try for yourself, we're ready to help you Live With Sole, unhindered by debilitating foot pain. Order today!