We're excited to introduce our latest style - the Emerson!
---
What Makes The Emerson Different?

---
You may be asking yourself, what makes the Emerson sandal different from previous Healing Sole styles?
Well, perhaps the biggest difference is that the Emerson is a two-strap slide. These straps are velcro and adjustable, giving you more control over fit and wear.
And because these are slides - go ahead and slip on your favorite pair of socks before rocking them outside or in the house!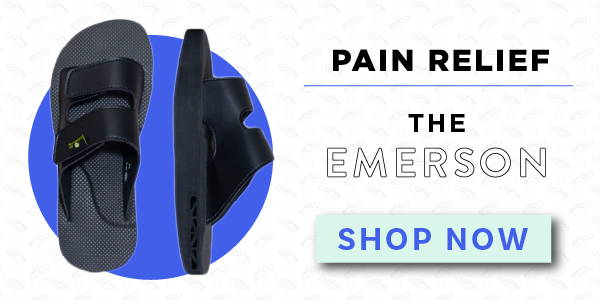 This means you can wear these sandals during winter, and feel year-round foot pain relief! We may be based in Louisiana, where it's typically warm, but we don't want to exclude anyone from the awesome benefits of the Healing Sole and the features that make it so effective.
So, wear them sockless, with socks, loosen up those straps or secure them tight for that evening stroll - because that's just how we roll.
---
Don't Worry, We're Still Focused on Pain Relief

---
The Emerson is still designed to be your personal recovery device - aimed at relieving foot pain, and especially pain associated with plantar fasciitis.
The Emerson was designed to reflect the functional features of our Palmer style. That means it has appropriate arch support, a metatarsal bar, rocker bottom sole, compressible inner heel, and a non-compressible outer heel. The structure and function of each feature was designed to work together in a synergistic fashion.  
Like the Palmer, the Emerson has a level big toe position. This makes it more accessible to anyone with great toe conditions like bunions, hammer toes, morton's neuroma, and hallux rigidus.
Even if you don't have a condition that affects the ball of the foot region, rest assured these sandals can still work for you, and with you to relieve foot pain.  This shoe was designed by an orthopedic surgeon with a deep understanding of foot anatomy and biomechanics.  
---
When To Wear The Healing Sole Emerson

---
The Healing Sole Emerson is meant to be worn in the same way that our Original and Palmer styles are.
We recommend breaking them in slowly, allowing you time to adjust to this awesome recovery device.
When worn for one to two hours in the morning or evening, you may notice the rocker bottom sole provides a gentle stretch to the fascia, while other elements work in conjunction to offload stress to typical pain points in the foot.
You may notice muscle soreness during the break-in period as you begin to use muscles that are normally deconditioned. However, over time, the Emerson can help strengthen those muscles and reduce pain overall.

You don't need to wear these all day to feel the results, but we do recommend you slide into a pair of our Emerson style, and see where it takes you.