We at The Healing Sole have been working diligently to expand our style and color options.
We love hearing your comments and suggestions through email and on Facebook, and we want you to know that we take note of each and every idea you share!
Before you ask, we are still developing closed-toe options, and we can't wait to make them available to you in the future.
If you are new to our footwear, we want to share a little bit about the structure of our Palmer flip flops and how they can be your perfect solution to foot pain.
---
WHAT YOU NEED TO KNOW ABOUT THE PALMER
---
The first characteristic that people notice about our Palmer flip flop is the neutral toe design.
Every style of our footwear is designed with 4 main features:
A gently-curved rocker bottom sole

A metatarsal bar beneath the ball of the foot

Moderately raised arch support

And a combination compressible inner heel and non-compressible outer heel
These features work fluidly together and with other design factors so that with every step you take, you are able to stretch away tension from the muscles of your feet and calves.
In addition, they provide you with the perfect blend of comfort and support to offload stress that accumulates throughout the day and night.
These features provide lasting relief from conditions including plantar fasciitis, heel spurs, arthritis, Morton's neuroma, Achille's tendonitis, posterior tibial tendonitis, and more.
By keeping the toe bed flat, wearers with bunions, hammertoes, Morton's neuroma, and other conditions affecting the toes and balls of the feet can wear our footwear without any discomfort or irritation.
---
WE'VE GOT A NEW COLOR YOU'LL LOVE!
---
Just recently, we launched a new color in our line of Palmer flip flops, and it's been a huge hit!
Our new Dusty Rose color is the perfect shade of pink for spring and summer.
This design is for you if you are:
fighting foot pain

looking to promote the overall health of your feet

or looking for a comfortable summer shoe that won't irritate bunions or hammertoes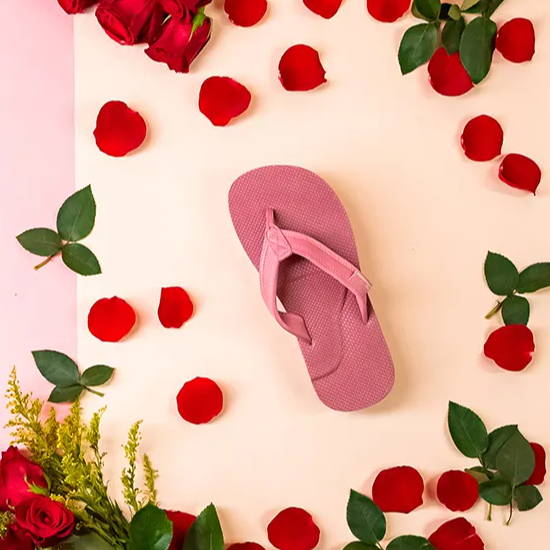 Don't forget – this style is a Limited Supply item.
It's available now and shipping immediately. Grab your pair of our Dusty Rose Palmer flip flops before they sell out!
Order your pair today.