When discussing treatment options for your plantar fasciitis with your doctor, one of the first things they'll mention is changing your shoes.
Footwear can have a lot to do with foot-related pain, especially when it comes to plantar fasciitis. While there are other treatments for the condition, changing your footwear can have a huge impact on your pain level and recovery.
What you wear on your feet matters, so arch support is key.
---
THE IMPORTANCE OF ARCH SUPPORT
---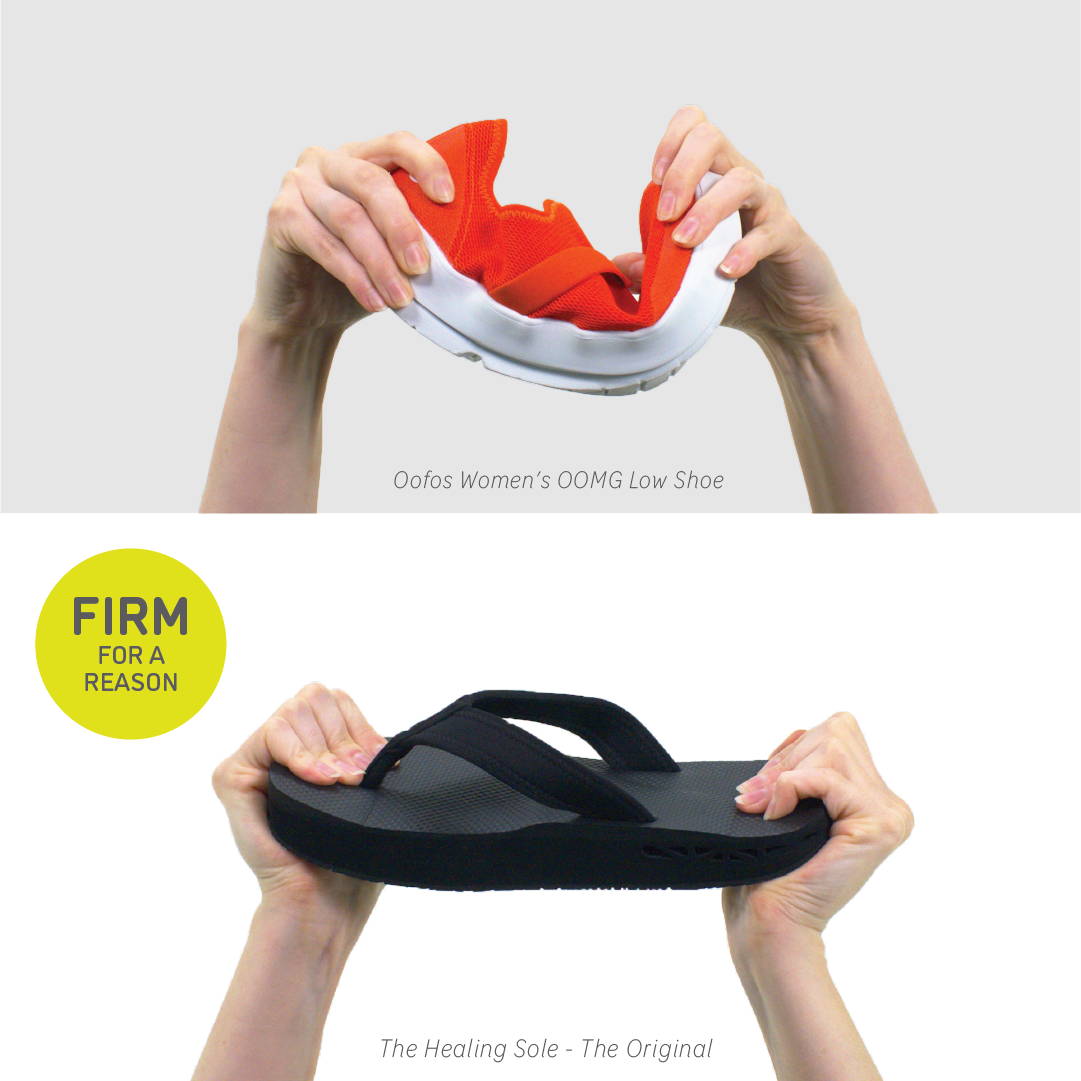 Walking around barefoot or in flimsy shoes like Oofos and regular flip-flops can delay your recovery.
Non-surgical treatment options for plantar fasciitis begin and end with arch support.
You must wear shoes with a stable arch support, a wide, shock-absorbing heel base and cushioning in the front part of the foot.
Studies have shown that simply by wearing cushioning insoles, patients reduced plantar fascia stress by 35-34 percent.
Over-the-counter insoles are inexpensive ways to combat the pain of plantar fasciitis, if you're not willing to invest in new shoes just yet.
You can find guidelines to choosing your perfect insoles as well as our top recommendations in this blog!
Plantar fasciitis is known to be caused by poor arch support, usually because of improper shoes without arch support. Even simply walking around the house barefoot can cause unnecessary stress to the plantar fascia.
By adding footwear like The Healing Sole to your daily routine, you will reduce pain levels and, over time, strengthen the arch of the foot.
---
POSITIVE CHANGE: THE HEALING SOLE
---
Yes, a flip flop is not a shoe - we know! But that doesn't make our footwear any less effective for promoting pain reduction and foot health, no matter your condition.
This is thanks to the surgeon-designed features of our flip flops, including raised arch support, a rocker bottom sole, metatarsal bar, and compressible inner heel.
By using The Healing Sole at home or when running everyday errands, you can reduce stress on your knees, ankles, and back. A simple footwear change can treat your plantar fasciitis as you go about your day.
Other treatment options can be time-consuming, risky, and cost-heavy. 90% of plantar fasciitis patients can be treated in non-surgical ways.
---
---
The most important part of treating plantar fasciitis with a shoe is the patient's dedication to the treatment! The patient has to be dedicated to wearing their shoe constantly, and avoid walking barefoot at all costs - otherwise, they will not see the results that countless other patients have.
We make this transition easy by guiding you through the 7-14 day break-in period with videos and pointers from Dr. Meredith Warner herself.
Start off slowly. Just a few hours of wear in the first few days is enough to begin feeling relief. Over this two week period, you will gradually increase your wear time until you can wear them all day, though Dr. Warner still recommends alternating between The Healing Sole and another pair of supportive shoes.
---
---
Try The Healing Sole for 30 days. Allow yourself the full 7-14 day break-in to fully adjust to your new footwear. If you don't find relief, just process a return here on our website and send them back for a refund.
You can read our full returns policy here.
Are you ready to take relief into your own hands with surgeon-designed success? Order The Healing Sole today to take the first step towards recovery.