* These directions apply to all styles of The Healing Sole footwear. *
Designed by orthopedic surgeon, Dr. Meredith Warner, The Healing Sole footwear is one of the best steps a person can take to alleviate heel & foot pain. Working exceptionally well for those with plantar fasciitis, our footwear is designed to aids the body's natural healing process. The Healing Sole helps you live pain-free - faster & more comfortably. However, it is important to keep in mind that The Healing Sole can take some time to break in and adjust to how they feel.
"It's crucial to give your body time to adjust to walking with the rocker-bottom sole and to allow this firm footbed to contour to your foot type." - Dr. Meredith Warner
---
DR. WARNER'S RECOMMENDATIONS
---
Break in your pair of The Healing Soles slowly. Begin with one hour of wear for a few days and gradually increasing wear-time to 2, 3, then 4 hours each day and so on.
"In some cases mild soreness is normal while wearing The Healing Sole. But if you find yourself too uncomfortable, let your foot rest for a day and then wear again the next day for up to an hour." - Dr. Meredith Warner
The foam and straps are designed to fit better after they are broken in slowly. After the recommended wearing time, they will conform to the shape and size of your foot. Both the dense foam and large straps were specially designed to keep your foot anchored in the correct position in our flip flops or sandal.
The Healing Sole footwear is built from a structurally dense foam that does not give under the body's weight. The dense foam offers appropriate structural support to the foot allowing the bones, joints, and muscles of the foot to rest and heal. This dense structural foam allows the rocker bottom sole to rock effectively while walking.
Rocker bottom soles engage different muscles when walking as compared to normal flat-soled shoes. If you do not normally wear shoes with rocker bottom soles (i.e.- MBT shoes or Sketchers Shape Ups) you may experience some hip, leg, or calf soreness when you first start wearing The Healing Sole. This type of initial pain and soreness is similar to that of someone who normally wears flat shoes and decides to occasionally wear high heels.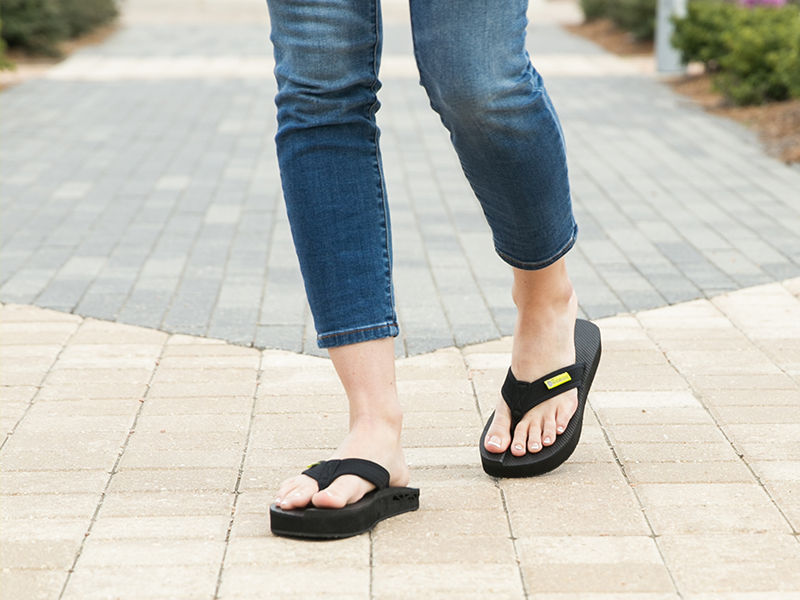 During the break-in period, your body will adjust to this new way of walking by strengthening newly engaged muscles and the soreness will gradually disappear.
Remember that we offer a 30-day period to properly break in your pair of The Healing Soles and acclimate to how they feel so that you can determine if they are an effective treatment method for you.
Take advantage of the full 30 days and don't give up on finding heel pain relief.
Treat Heel Pain Naturally
Dr. Warner founded Well Theory to promote full-body wellness and reduce pain naturally. Her foot cream, developed exclusively for The Healing Sole, is formulated with ingredients that work together to deliver powerful, holistic relief from pain and inflammation.  
While Well Theory has a full line of products, foot pain relief is easy with our foot cream designed exclusively for use with The Healing Sole. Simply massage a small amount of the cream into the area you are experiencing pain and then slip on The Healing Sole to alleviate pain at any time of day.
Allow 5-7 days of use to feel its effects!