Dr. Meredith Warner, the orthopedic surgeon and wellness expert behind the development of The Healing Sole and Well Theory, knows that healing takes time – which many of us don't always have a lot of.
That's why she developed powerful pain relief in easy formats for your busy schedule.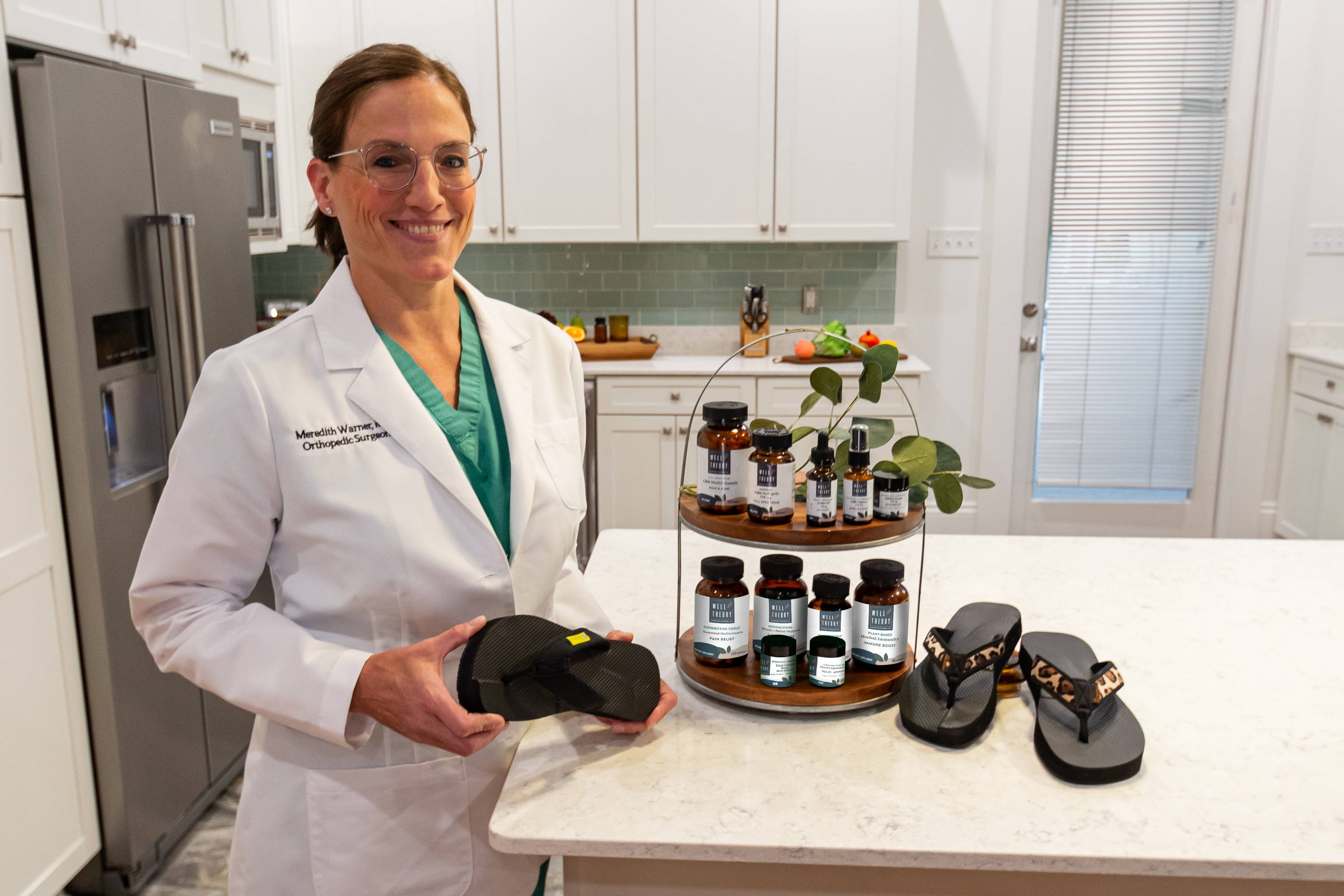 When you are recovering from foot pain, muscle aches, joint stiffness, and more, it can kick your schedule out of balance.
While taking time to rest and prop your feet up is important (and encouraged!), you don't always have the time during the day to rest and recoup. 
With Dr. Warner's purposefully designed products, you can find all of the pain-fighting, inflammation-reducing, and wellness-enhancing tools you need to help you get moving and stay moving without missing a beat.
---
HERE ARE OUR SOLUTIONS TO PAIN WHEN YOU'RE ON THE MOVE
---
Let's start by looking at The Healing Sole.
The Healing Sole footwear is designed to move with you, making it a perfect option for pain relief whether you're out and about or walking around at home.
The features of our footwear – including a rocker bottom sole, raised arch support, a metatarsal bar, and more – engage the muscles of your feet that are weak and tense.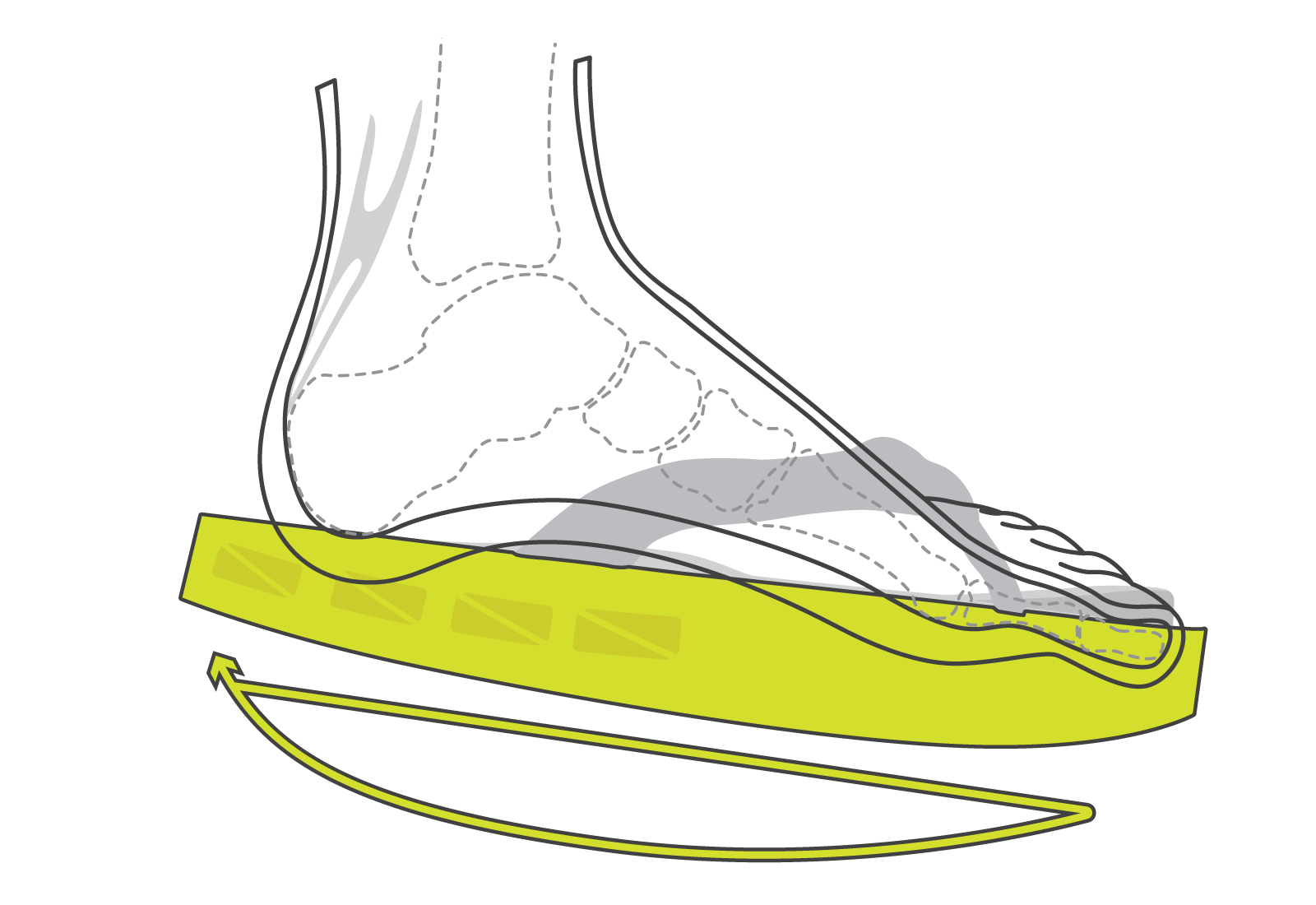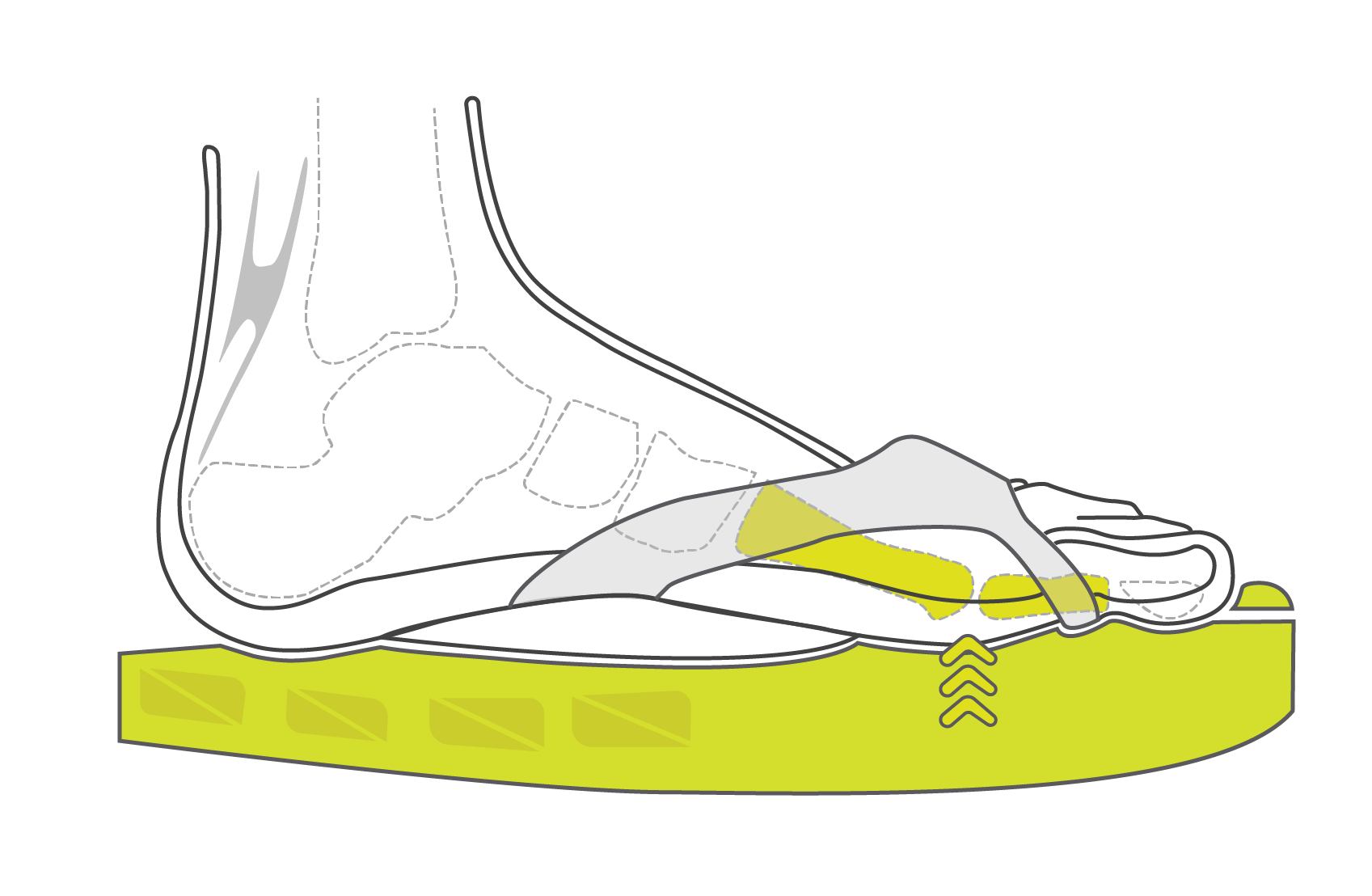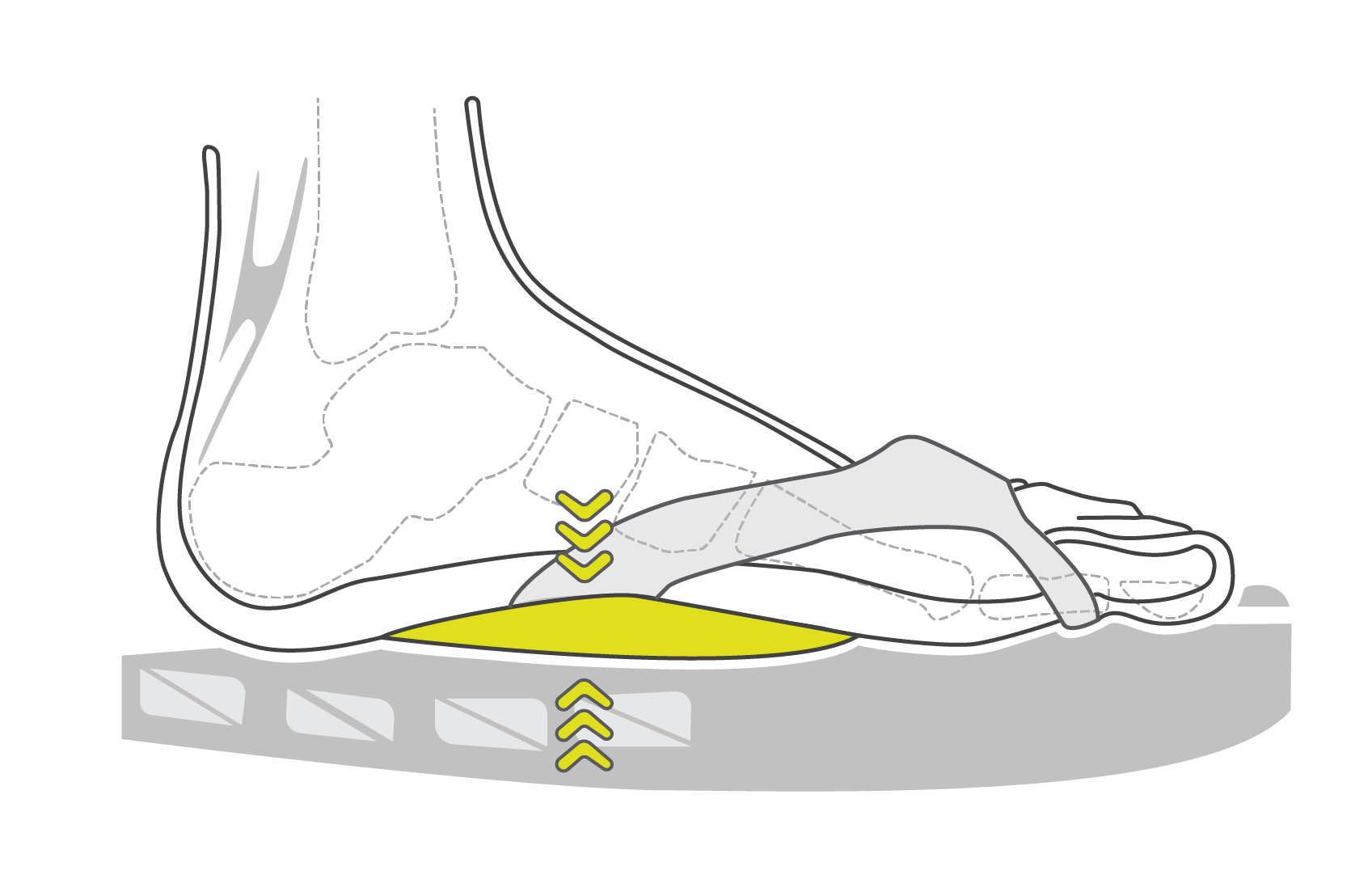 4. INNER HEEL COMPRESSION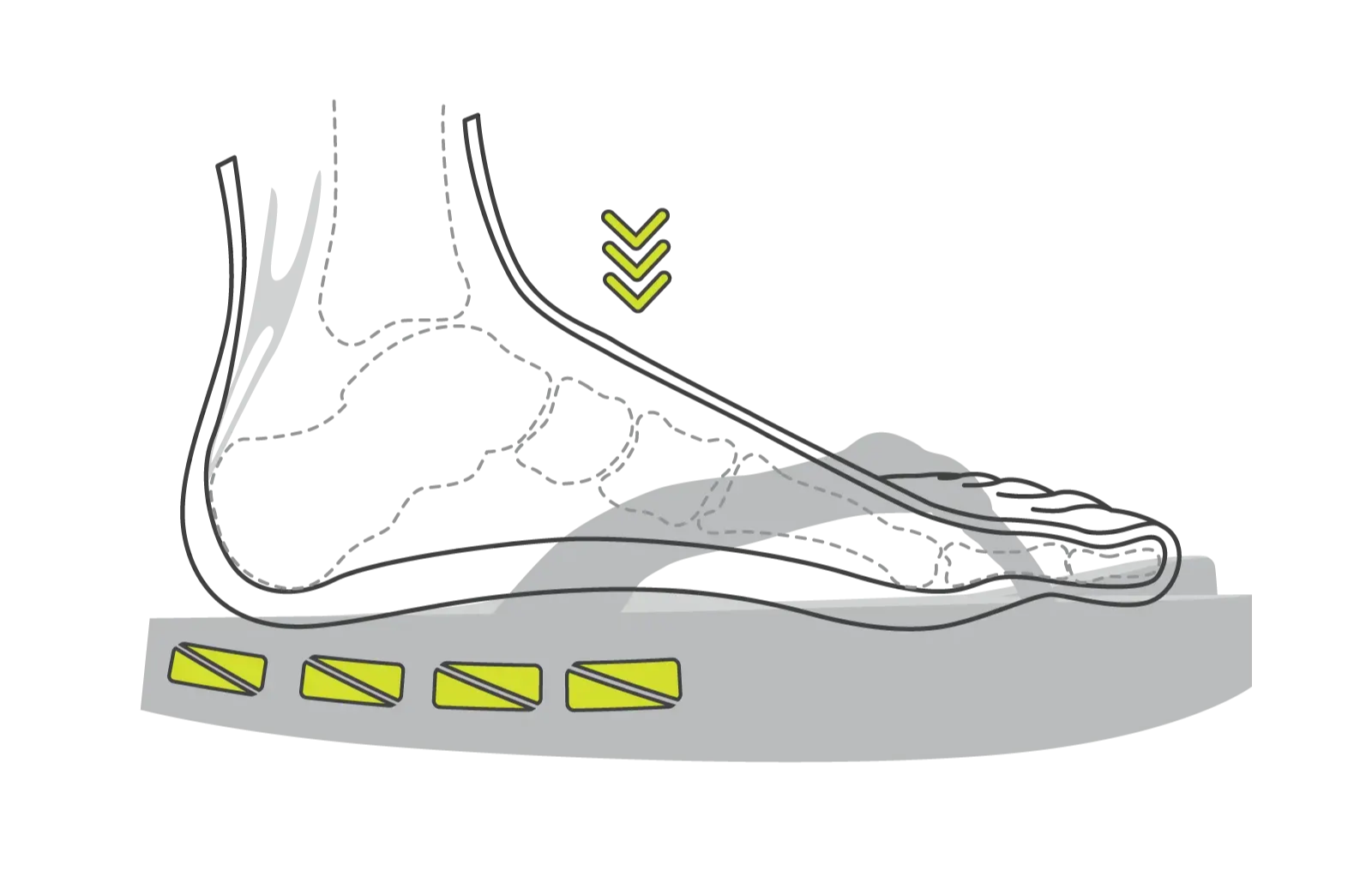 Once triggered, the features stretch the muscles, support them as you walk, and offer rest and relief in key pressure points to help keep your feet and lower legs pain-free.
This way, pain and tension won't slow down your day or your body's natural healing process.
Just remember – recovery doesn't happen overnight. Our footwear can keep up with an active lifestyle, but you shouldn't aim for this right out of the gate.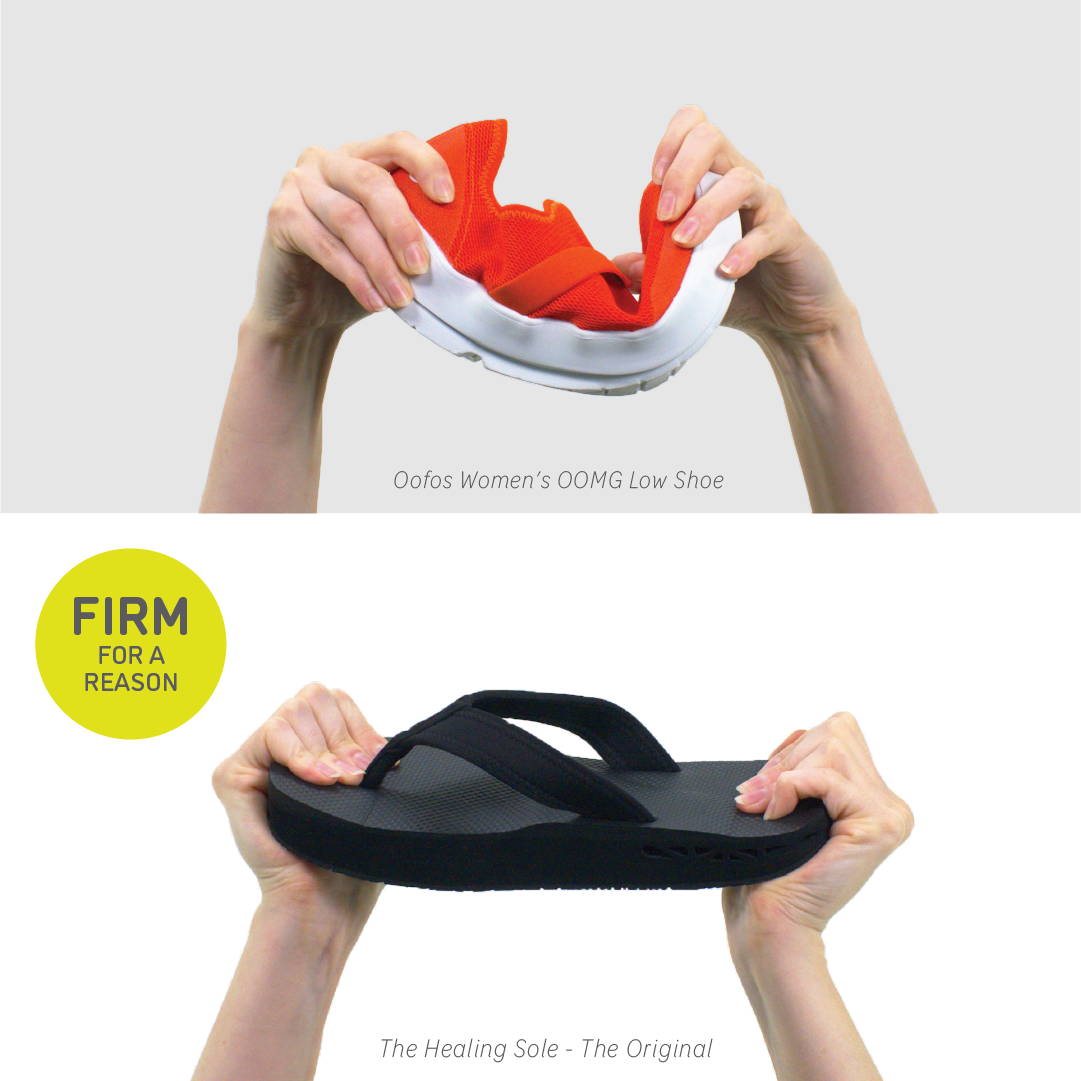 Dr. Warner designed this shoe with a structural foot bed that is firm by intention.
This allows for more muscle use and also for better position sense and engagement of nerves in the foot that can provide a sense of space and balance.  
Many people find this firmness to be unlike anything they have tried before.
This is one of the reasons why The Healing Sole is so unique and has had such success in promoting foot health and reducing foot pain.
The foot was not designed to sit on soft pillow-like structures. Rather, it was designed to be on firm ground and to work as you stand, walk and live your life.  
Allow our footwear to break in over 7-14 days using this handy-dandy break-in guide.
Once broken in, you'll really begin to feel the effects of our footwear and will be able to wear them throughout the whole day.
The initial firm feeling of this shoe will dissipate as it conforms to your foot.  
---
NOW, LET'S HOP ON OVER TO OUR WELL THEORY PRODUCTS
---
Well Theory is designed to fill dietary holes in your system, whether that is from a lack of nutrition or fighting compromised wellness.
Daily supplementation with our various formulations can lead to a stronger immune system, having less pain in your muscles and joints, fighting inflammation, and getting a better night's sleep.
For natural relief that keeps up with your busy lifestyle, check out these products:
Our Pain Relief + Recovery Cream
This luxurious cream is thick and creamy to the touch but sinks quickly into the skin without a heavy film left on the surface.
This formulation fights muscle and joint pain with PEA, menthol, and specifically chosen essential oils.
Rosehip oil, shea butter, and hyaluronic acid calm, soothe, and heal the skin on a surface level.
---
Our Foot Pain Relief Cream
PEA, lidocaine, and menthol are the key ingredients in this fast-acting foot cream.
When massaged into the area of pain in your feet, the ingredients quickly sink into the muscles and connective tissues to alleviate pain and reduce sources of inflammation.
It also incorporates a curated essential oil blend for added pain-relieving and anti-inflammatory benefits!
Keep this foot cream in your purse, gym bag, or out on your work desk and apply as needed anywhere on the foot and lower leg for fast, effective relief.
---
---
---
Choose a pair of our Healing Sole footwear, a supplement or cream from Well Theory, or – better yet – pair them together!
Our products will help you fight pain and inflammation at any point of the day.  
These products were designed to allow your body to heal itself and recover more quickly and successfully.
These are methods to combat the issues we often associate with aging - inflammation, stress, pain, and stiffness.  
---
ORDER OUR WELLNESS PRODUCTS TODAY!
---
Whether you are looking for relief from foot pain or daily support for healthy bones, joints, brain health, or immune function, The Healing Sole and Well Theory has you covered with natural, chemical-free options for on-the-go relief.
Peruse our full line of products to find your perfect daily support system for optimal wellness!