Are you experiencing muscle or joint pain? Dr. Warner's Pain Relief Cream with PEA can provide a topical solution for quick pain relief.
---
What's In Our Pain Relief Cream?

---
The Pain Relief Cream with PEA contains several ingredients designed to significantly reduce pain in aching muscles or joints.
These ingredients include:
Turmeric

Palmitoylethanolamide (PEA)

Menthol

Rosehip Oil

Essential Oil Blend

Skin-softening ingredients
How Does It Relieve Pain?

---
This unique blend of ingredients is designed to lower inflammation and reduce pain, with each ingredient working cohesively for your benefit.
PEA is found naturally in the human body, but can also be isolated from peanuts, soy, egg yolks and other food sources. When massaged into the afflicted area, it works quickly to lower inflammation and reduce pain - just as the body intended. PEA reduces the expulsion of inflammatory proteins from mast cells near nerve endings. It is a great way to reduce pain that involves nerves.  
This cream also has a unique blend of essential oils; frankincense, peppermint, bergamot, and wintergreen. These essential oils work to lower inflammation, reduce pain and muscle spasms, while soothing your skin.
The inclusion of menthol in our Pain Relief Cream means you'll feel it working immediately. It provides a cooling sensation on contact that reduces joint and muscle pain alongside our highlighted ingredient, turmeric. Menthol also helps to push the other natural ingredients past the outer layer of the skin so that the cream can be effective.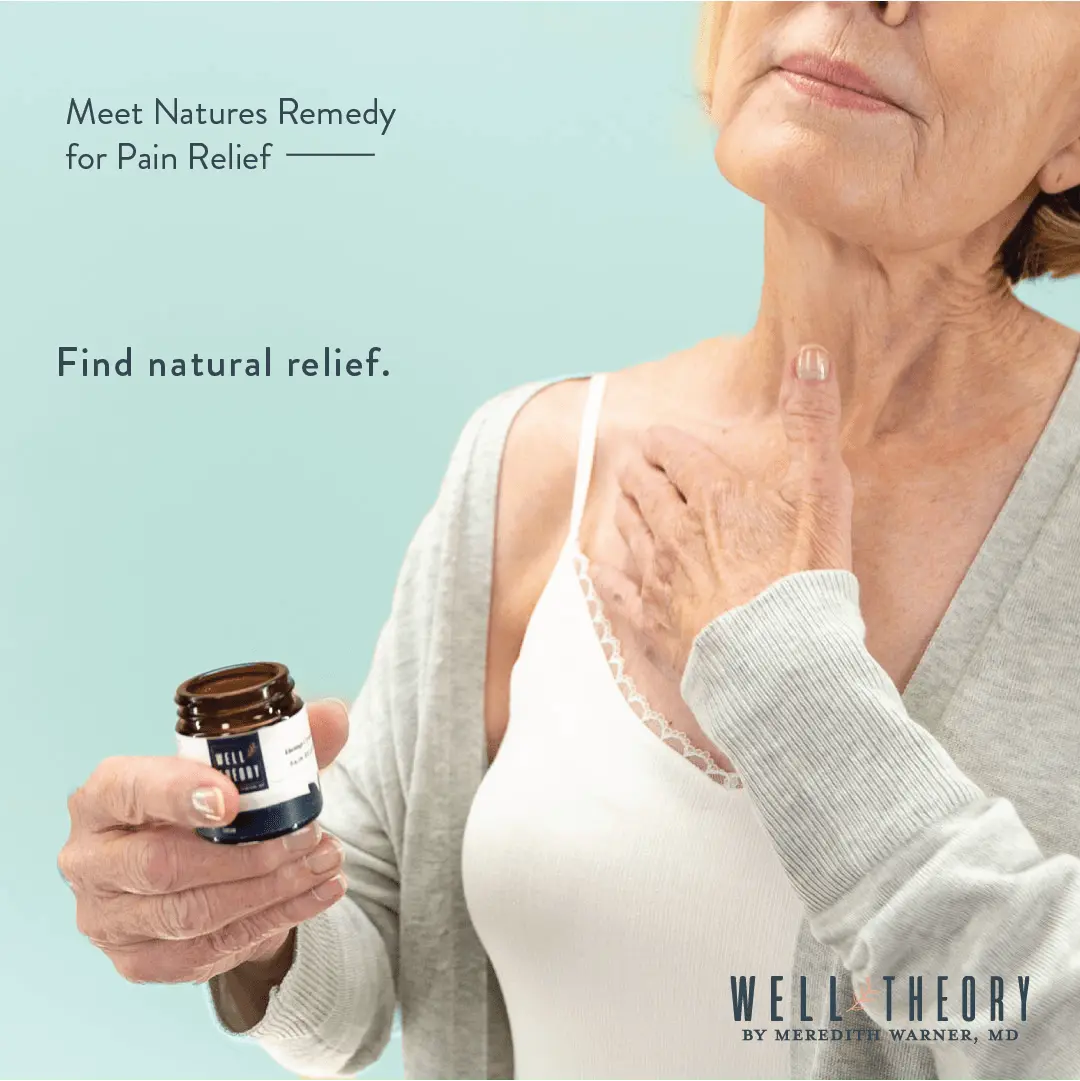 Turmeric is an ingredient found in ancient medicinal practices, and has been used as a topical solution for thousands of years. Not only does it assist with wound healing and reducing inflammation, but it also helps with scar tissue.
---
Our Pain Relief Cream Benefits Your Skin Too

---
The turmeric in this cream isn't the only ingredient that helps with skin appearance and health. The menthol mentioned previously also hydrates and minimizes the appearance of dark spots.
The Rosehip Oil in this blend also reduces the appearance of scars while hydrating the skin. It's also a great source of antioxidants that your skin will love.
The base of our Pain Relief Cream includes aloe vera, shea butter, hyaluronic acid, myristyl myristate, and witch hazel.
So, rest assured, your skin is being soothed while your pain is reduced. Let our Pain Relief Cream be your go-to after a long day, post-workout, or when your joints aren't feeling their best.