Dr. Meredith Warner, founder of Well Theory, talks about the importance of sleep - and how less sleep is connected to higher levels of chronic inflammation.
Well Theory features several supplements specially designed by Dr. Warner to lower inflammation and oxidative stress - contributing factors to noncommunicable diseases like cancer, arthritis, diabetes and more.
IT'S EASY TO GET STUCK IN OLD WAYS OF LIVING. IT'S TIME TO MAKE ROOM FOR THE NEW WAYS OF HEALING.
---
Get Better Sleep, Support Healthy Inflammation, and Better Recovery, Naturally!
Dr. Warner is proud to offer these delicious Tart Cherry Extract Gummies with Gaba, Melatonin, and Chamomile – formulated to help you improve sleep patterns, joint mobility, muscle recovery, and getting your inflammation under control.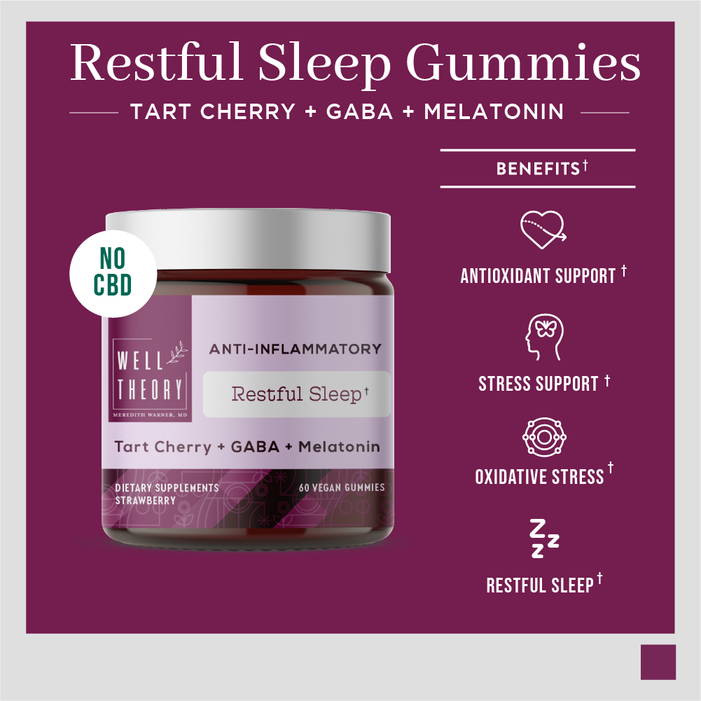 Anti-Inflammatory + Brain & Mood Health + Pain Reliever
Omega-3 fatty acids are an important building block to the human body. The human body is unable to generate its own Omega-3s, thus it must be obtained from outside sources.