Palmitoylethanolamide (PEA) is a natural and powerful way to manage pain, inflammation, and damage from oxidation. PEA is made in a similar way in humans and in plants, and it can be isolated from peanuts, soy, egg yolks, and other food sources.
The biosynthesis of PEA starts with a phospholipid precursor and is then hydrolyzed, or broken down with water. PEA begins with N-palmitoyl-phosphatidyl-ethanolamine. It is hydrolyzed by N-acyl-phosphatidyl-ethanolamine-selective phospholipase D (NAPE-PLD). When it is not needed anymore, PEA is then degraded by fatty acid amide hydrolase (FAAH). This is the same enzyme that breaks down anandamide and is blocked by cannabidiol (CBD). Another way to degrade PEA is with N-acylethanolamine-hydrolyzing-acid amidase (NAAA).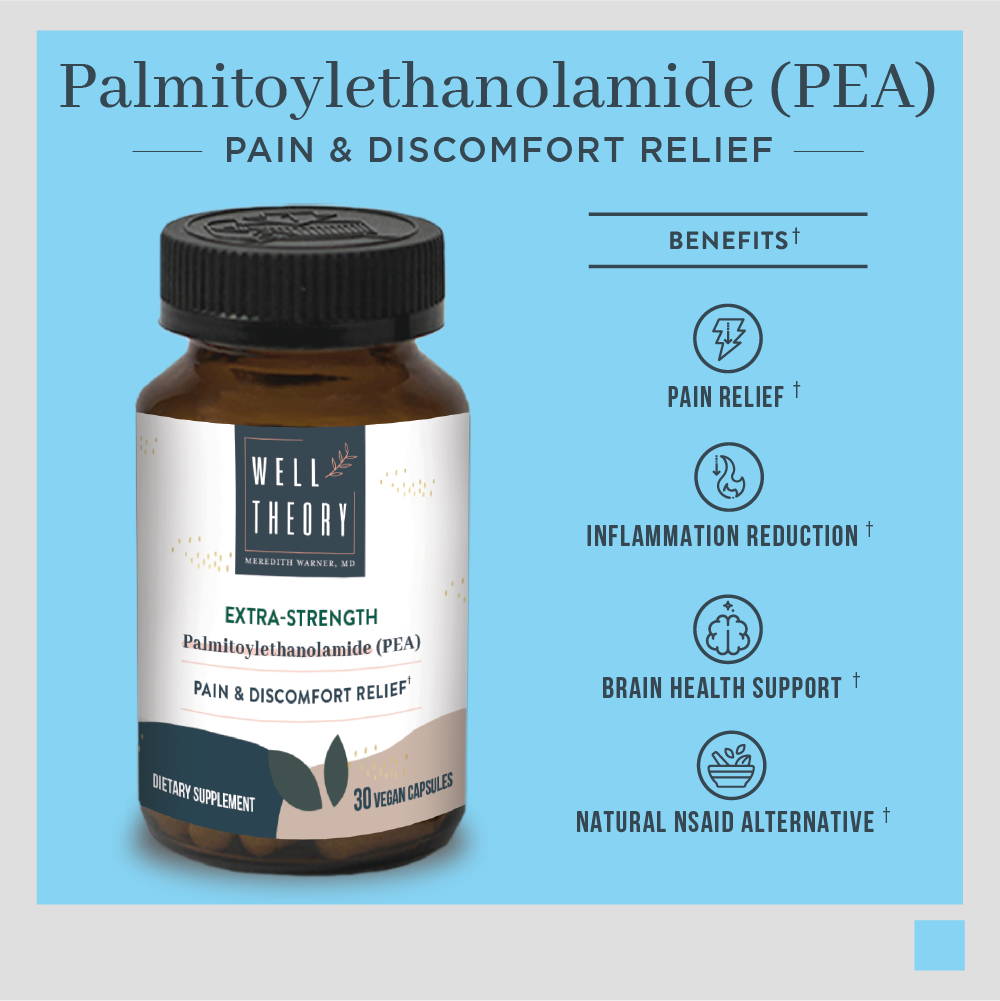 Since the late 1950s, PEA has been known to be an effective method of managing allergic and inflammatory reactions. Like many natural products, PEA exerts its action through multiple pathways.
One of these involves the stimulation of peroxisome proliferator-activated receptors (PPAR) which regulate gene expression.
Another way is by stimulating TRPV1 receptors which can cause inflammation and pain when they are sensitized.
Another is to simply downregulate mast cell production and degranulation. This works through the Autacoid Local Injury Antagonism (ALIA) system. PEA also stimulates the GPCR-55 cannabinoid receptor and also indirectly activates the CB-1 and CB-2 receptors by modulating FAAH.
The amazing, therapeutic effects of PEA are developed through the synergistic (additive) actions of these various mechanisms. These actions are particularly important in the central and peripheral nervous systems.
---
EXPERTLY-FORMULATED FOR OPTIMAL RELIEF
---
Our essential PEA multivitamin and pain-relieving foot cream from Well Theory have been purposefully-crafted by Dr. Meredith Warner to relieve pain naturally, effectively, and quickly. The ingredients combined within these products work together to regulate homeostasis, reduce inflammation, and support stronger, healthier muscles.
We include these ingredients in our Advanced Connective Tissue Support Multivitamin, in addition to PEA: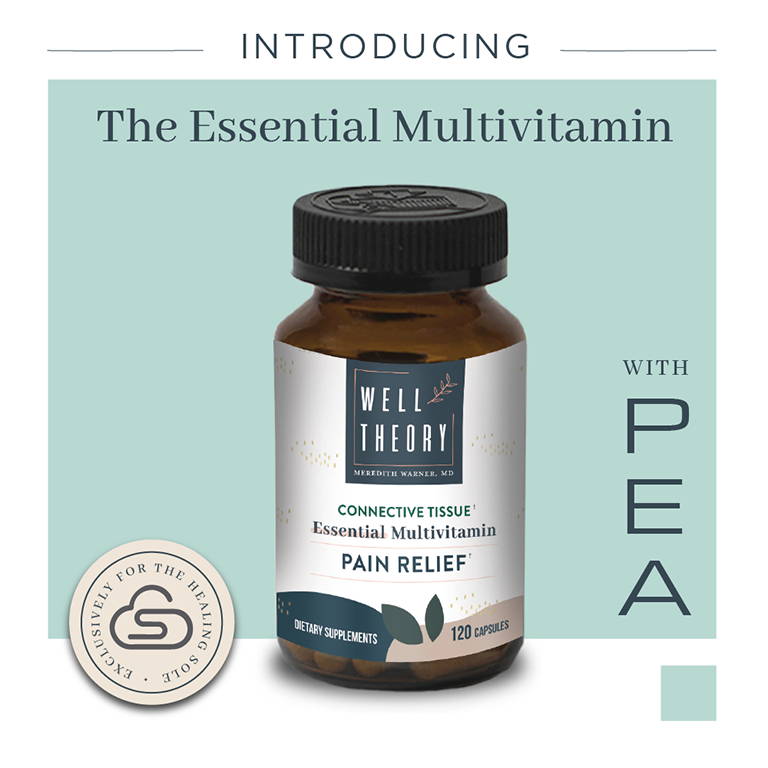 Magnesium Oxide

&

Calcium Citrate

- promotes healthy bones, reduces muscle cramps, and boosts nerve signaling

Vitamin D3

- strengthens nerve health and helps the body to more readily absorb calcium

Vitamin C

- supports wound healing, collagen formation, and increase the health of bones, joints, and teeth

Zinc Gluconate

- improves wound healing and connective tissue formation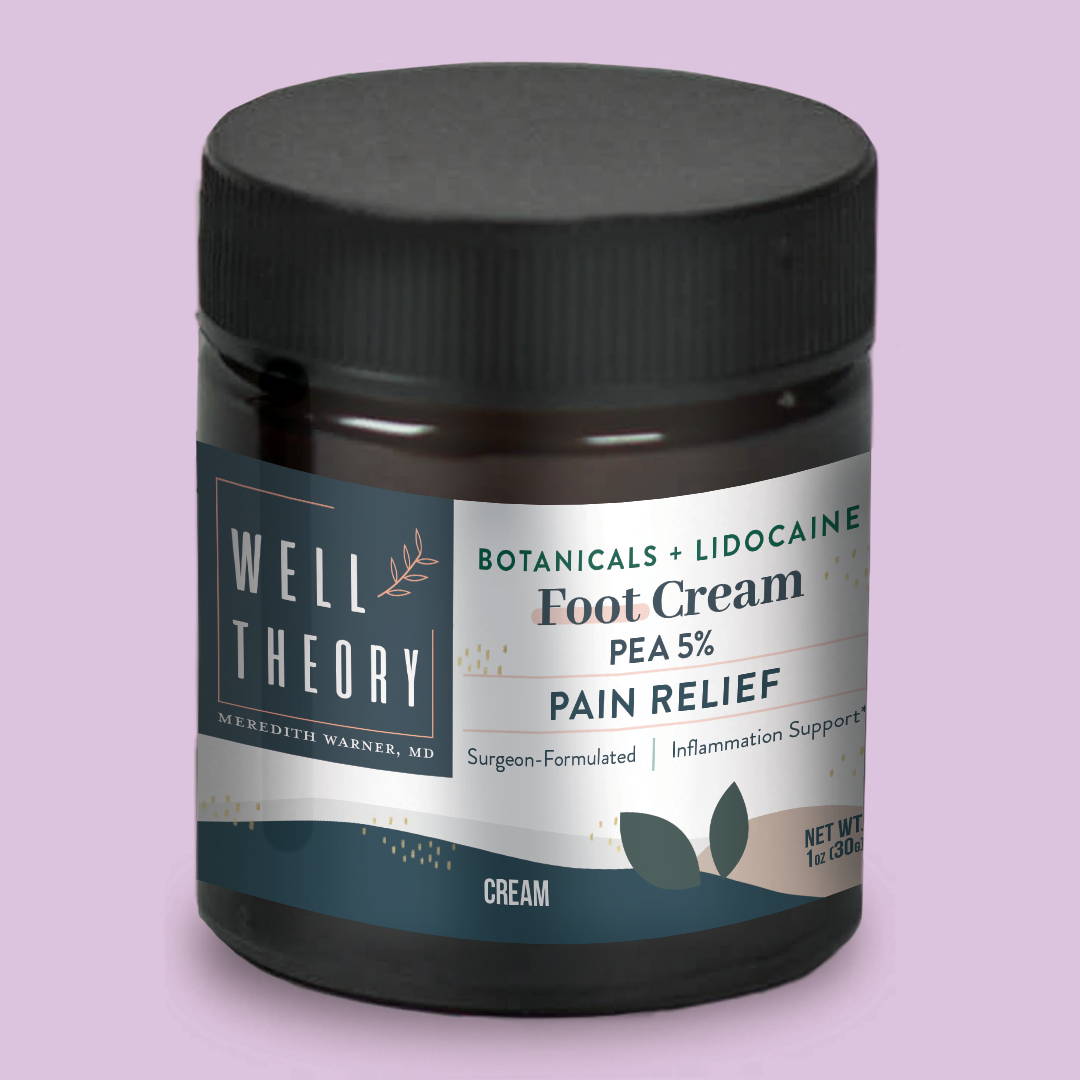 We include these ingredients in our Foot Pain Relief Cream, in addition to PEA:
Lidocaine

- relieves nerve pain and muscle soreness quickly when applied topically

Menthol

- interacts with pain receptors to alleviate sensitivity and cool on contact

A Curated Blend of Essential Oils

- stimulates physical and nerve-related responses to calm irritation, reduce pain, and lessen inflammation
When paired with PEA, these ingredients offer a powerful solution to pain, tension, and improve overall wellness from the inside out.
---
---
PEA is a fantastic ingredient to incorporate into your daily routine for natural pain relief. PEA is plant-based and binds to cells within the body for anti-inflammatory and pain-relieving properties that last all day. Combine our Well Theory products with The Healing Sole for quick, lasting relief and defense against pain.