Hi there, it's Dr. Meredith Warner –
Multiple Sclerosis (MS) is a neurodegenerative disorder. Alzheimer's, Parkinson's, and Amyotrophic Lateral Sclerosis (ALS) along with MS are the same. The neurodegenerative disorders have gradual and selective neuronal cell death. This results in a progressive loss of function. There may be cognitive deficits, dementia, pain, motor abnormalities, behavioral disorders, and paralysis.  
Palmitoylethanolamide (PEA) has great potential as a neuroprotectant, or a defense against damage to the nervous system. PEA down-regulates the activation of pro-apoptotic markers and pro-inflammatory factors in the nervous system. By these actions, the loss of neurons in the cerebral cortex and hippocampus is lessened. In animal models of MS, PEA reduces spasticity and motor deficit changes. PEA also reduced the severity of certain scores of neurobehavior.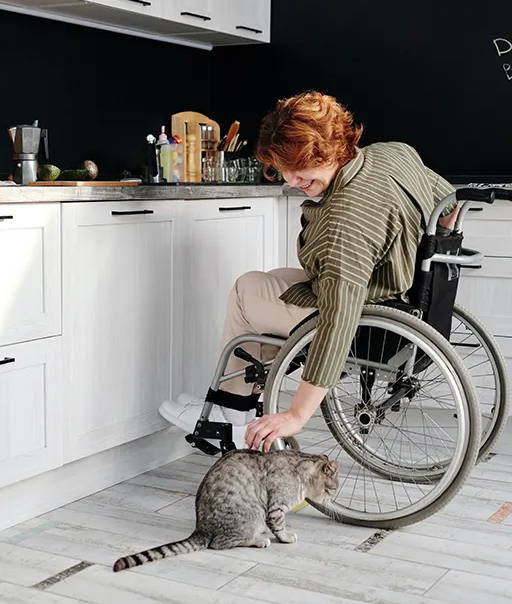 PEA has been found to be produced naturally in greater amounts in those suffering from MS. It is a natural protectant. The expression of pro-inflammatory cytokines in the nervous system is also reduced by PEA. In animal models, this led to a reduction in demyelination and decreased axonal damage.
Existing data from studies suggests that PEA supplements may compensate and/or amplify internal, naturally-occurring defense systems from neurodegeneration and neuroinflammation.
---
RELIEVE FOOT PAIN WITH PEA
---
We are excited to share two powerful products from Well Theory, designed exclusively for The Healing Sole: our Advanced Connective Tissue Support Multivitamin, and our Foot Pain Relief Cream.
Our essential multivitamin is formulated with PEA and a range of vitamins and minerals that work within the body to reduce inflammation, promote healthy tissue and bones, boost wound healing, and more. This multivitamin naturally supports pain relief, joint and musculoskeletal health, and overall daily wellness.
Our pain relief cream incorporates PEA, lidocaine, and several natural essential oils including bergamot, peppermint, and wintergreen. This cream has a cooling affect upon application and a pleasant smell. As the product sinks into your skin, it helps to alleviate muscle pains and stiffness and reduces inflammation. A little goes a long way – just spread a thin layer on your ankle, arch, toes, or heel for fast-acting pain relief.
We believe that pain relief can be achieved without surgery or harsh chemical medication. Use these products along with our best-selling, pain-fighting footwear to naturally and easily relieve foot pain!

---
EXPERTLY-FORMULATED FOR OPTIMAL RELIEF
---
Our essential PEA multivitamin and pain-relieving foot cream from Well Theory have been purposefully-crafted by Dr. Meredith Warner to relieve pain naturally, effectively, and quickly. The ingredients combined within these products work together to regulate homeostasis, reduce inflammation, and support stronger, healthier muscles.
We include these ingredients in our Advanced Connective Tissue Support Multivitamin, in addition to PEA: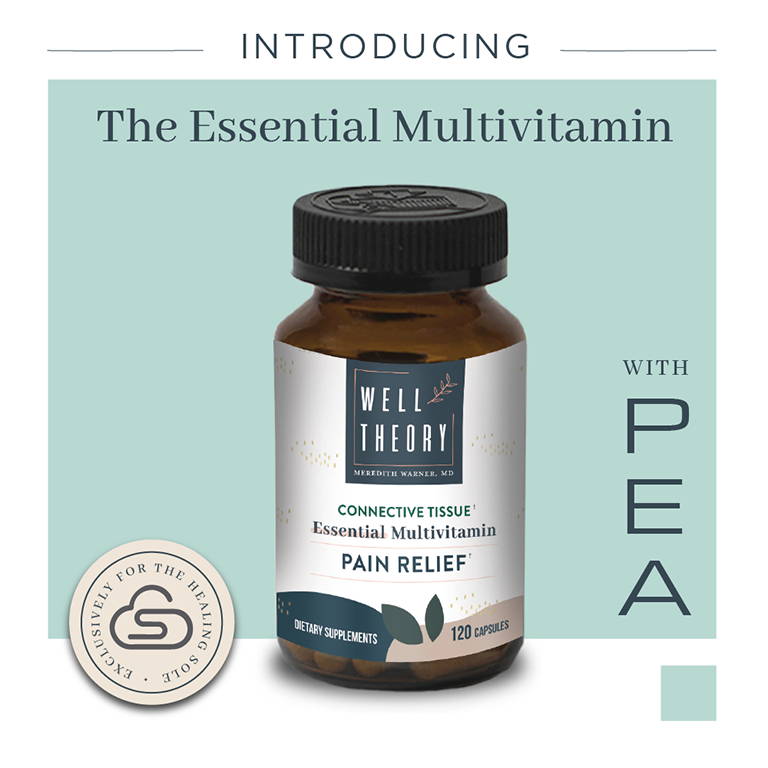 Magnesium Oxide

&

Calcium Citrate

- promotes healthy bones, reduces muscle cramps, and boosts nerve signaling

Vitamin D3

- strengthens nerve health and helps the body to more readily absorb calcium

Vitamin C

- supports wound healing, collagen formation, and increase the health of bones, joints, and teeth

Zinc Gluconate

- improves wound healing and connective tissue formation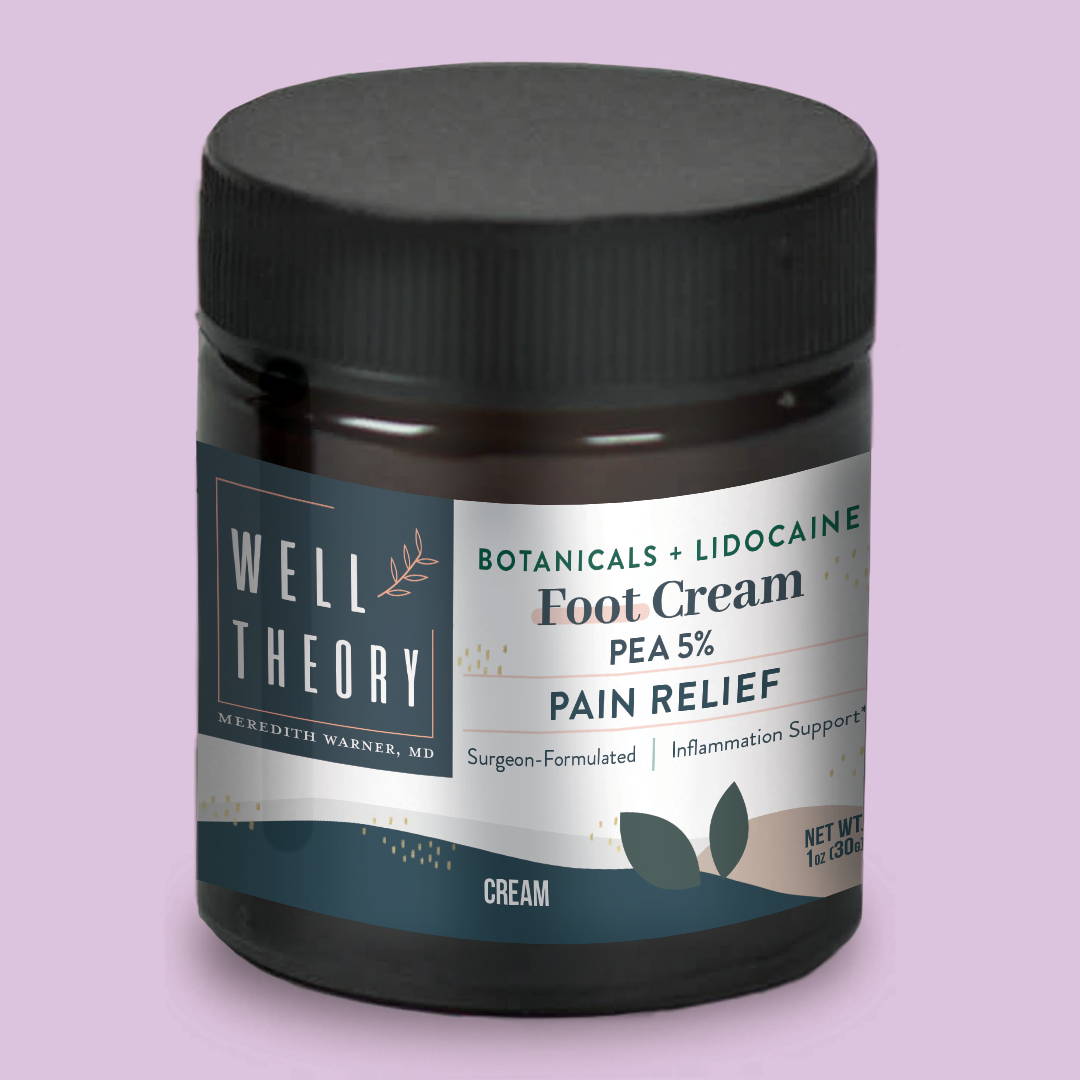 We include these ingredients in our Foot Pain Relief Cream, in addition to PEA:

Lidocaine

- relieves nerve pain and muscle soreness quickly when applied topically

Menthol

- interacts with pain receptors to alleviate sensitivity and cool on contact

A Curated Blend of Essential Oils

- stimulates physical and nerve-related responses to calm irritation, reduce pain, and lessen inflammation
When paired with PEA, these ingredients offer a powerful solution to pain, tension, and improve overall wellness from the inside out.
---
---
Dr. Meredith Warner is the creator of The Healing Sole and Well Theory. She is a board-certified and fellowship-trained Orthopedic Surgeon and Air Force Veteran.
Dr. Warner has treated countless patients for heel pain and plantar fasciitis pain in her private practice, Warner Orthopedics and Wellness. She developed The Healing Sole so that wearers can harness the body's natural healing power and have an option for everyday relief, without the need for surgery or expensive medical intervention.