The spectrum of foot pain ranges from a small annoyance to a daily hindrance. Whether you have plantar fasciitis, heel pain, Morton's neuroma, or any other sensitivity, it can affect how you go about your day. No matter your level of pain, our Foot Pain Relief Cream is here to save the day.
---
PURPOSEFULLY-CURATED INGREDIENTS BY AN ORTHOPEDIC SURGEON
---
Lidocaine is highly effective for relieving nerve pain and muscle soreness, while menthol alleviates sensitivity by quickly targeted pain receptors. The essential oil blend – which includes bergamot, peppermint, wintergreen, allspice, and frankincense – sinks into the skin to take away the pain, tension, and inflammation while leaving a pleasant scent on the skin. This formula also incorporates Palmitoylethanolamide (PEA), a natural pain reliever, anti-inflammatory, and homeostasis regulator. PEA also supports muscle recovery!
While these ingredients work on their own to provide you with pain relief and inflammation support, they are a powerful formula when combined. They can help you to achieve immediate relief success.
---
RELIEF WHEN YOU NEED IT MOST
---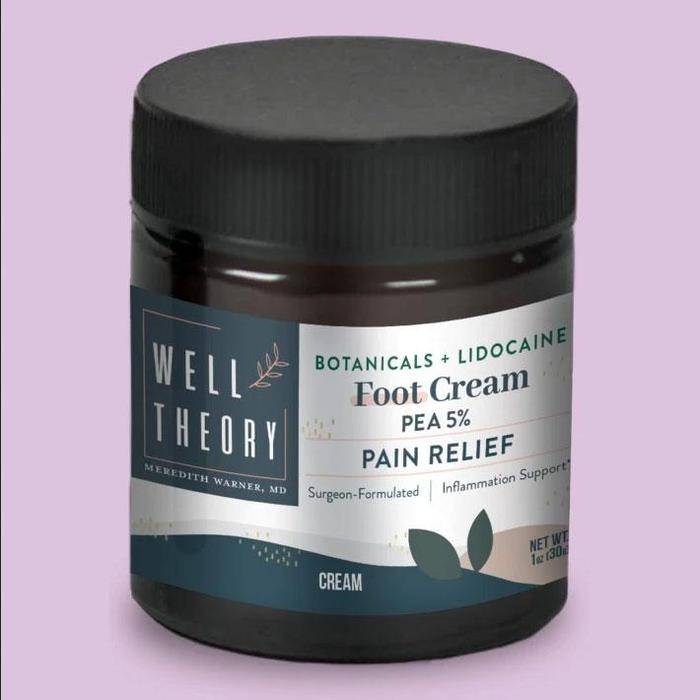 This cream can be kept with you and used at any time of day when you need relief. Keep it in your purse, your gym bag, on your work desk, or your bedside table.
When you feel aches and pains in your feet or legs, simply take out a small amount of this cream and massage it into the area of pain. The menthol provides you with immediate cooling and calming sensations while the Lidocaine and PEA sink into your skin, fighting pain, inflammation, and stiffness beneath the surface.
Be patient during the initial use of this cream! The power of the ingredients can take up to a week to reach their full potential. Once it has worked its way into your system, this cream can help you to find pain and inflammation relief anytime, any day, anywhere!
---
---
Foot pain doesn't have to control your life, and we're happy to provide you with several options to keep it out of your day. Order our Foot Pain Relief Cream with Lidocaine today, and pair it with our footwear from The Healing Sole. This is a match made in heaven, offering you active relief whether you are on the go or your feet at home.
Our foot cream has a 30-day return policy as long as it is sent back to us unopened and unused. You can view this return policy for our cream and our full range of productshere on our website.
Shop our full collection of supplements, creams, and footwear today!