Long ago, we shared our Essential PEA Multivitamin with you – and it has quickly become a staple in many of your daily vitamin regimens! We have been so gratified to see our surgeon-developed formula work so well for so many people. Today, we want to share all you need to know about this daily multivitamin complex, from how it works to why you need it in your wellness routine. We love reminding people of how excellent this ingredient is, especially when combined with essential vitamins and minerals.  
Let's begin our in-depth look at this multivitamin's key ingredient – PEA.
---
---
No, we aren't talking about vegetables. PEA is short for Palmitoylethanolamide. This is a biological lipid with anti-inflammatory and pain-relieving properties that occurs naturally in the human body.
When introduced into the system, PEA acts as an indirect endocannabinoid, interacting with cannabinoid receptors and non-neuronal cells in the body to lower inflammatory and painful sensory responses.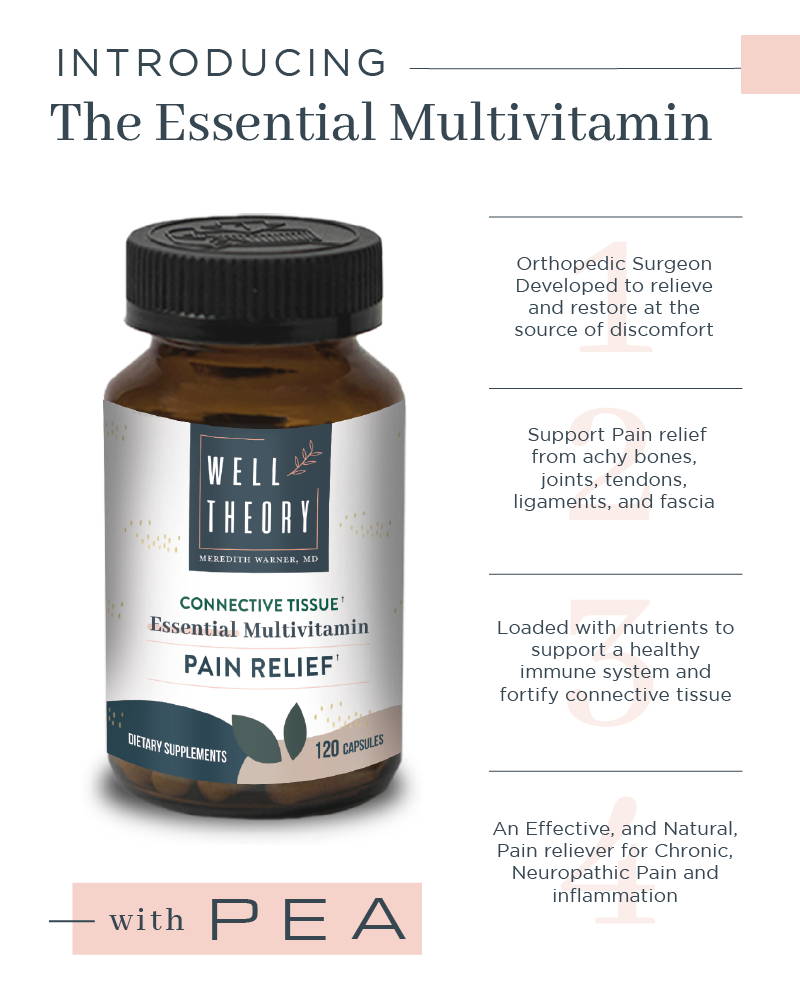 Technically, it is a 'fatty acid amide.' A fatty acid amide is made from a fatty acid and an amine. In nature and humans, the amine component is often ethanolamine.  
PEA can help control pain resulting from injury, sciatica, neuropathic conditions, arthritis, and more, strengthening the body's built-in defenses against pain. The best part? PEA is a fantastic option for fighting pain and inflammation because it has no side effects.
Learn more about the basics of PEA as shared by Dr. Meredith Warner, the inventor of The Healing Sole and Well Theory, in this blog.
---
WHY YOU SHOULD ADD THIS MULTI INTO YOUR DAILY ROUTINE
---
In addition to PEA, this daily multivitamin complex gives you a substantial daily dose of Magnesium Oxide, Calcium Citrate, Vitamins D3 & C, and Zinc Gluconate. These ingredients promote bone health, optimal nerve signaling, calcium absorption, wound healing, collagen formation, and connective tissue formation, among other fantastic health benefits.
All of the ingredients in the PEA Multi are very helpful to make your immune system stronger too.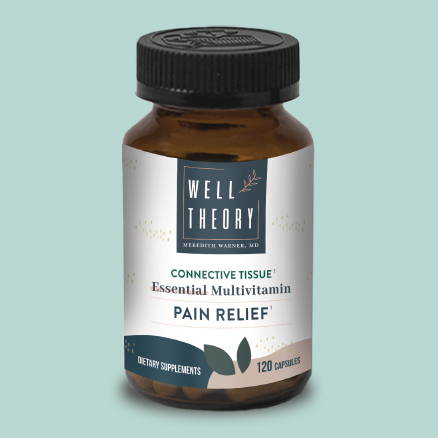 This multivitamin, along with our other products from Well Theory and The Healing Sole, is purposefully designed by orthopedic surgeon Dr. Meredith Warner to promote the body's natural healing methods for a fast, significant recovery.
You can rest assured that our products are backed by science and quality so that you can get back to feeling your best.
---
---
Are you ready to introduce the power of PEA to your daily supplement routine? Order your bottle of our Essential Multivitamin with PEA today!
You have two purchasing options for this multivitamin: make a one-time purchase to try this multi-out for yourself, or sign up for our monthly subscriptions to save 5% off your purchase! Every month, your subscription will auto-renew, and we'll get a bottle of our multivitamins shipped right to you so that you're never without the power of PEA.
Pair this multivitamin with any of our other Well Theory products or our pain-fighting Healing Sole footwear to stay happy, healthy, and pain-free, no matter what life throws your way.