Dr. Meredith Warner, founder of Well Theory, talks about lifestyle choices that lead to chronic inflammation.
Well Theory features several supplements specially designed by Dr. Warner to lower inflammation and oxidative stress - contributing factors to noncommunicable diseases like cancer, arthritis, diabetes and more.
IT'S EASY TO GET STUCK IN OLD WAYS OF LIVING. IT'S TIME TO MAKE ROOM FOR THE NEW WAYS OF HEALING.
---
Omega-3 fatty acids are building blocks for cell membranes & needed to help you age optimally.
Once Omega-3s become a large enough part of the human cell membranes, it can lead the inflammatory pathway to a more healthy and anti-inflammatory product group.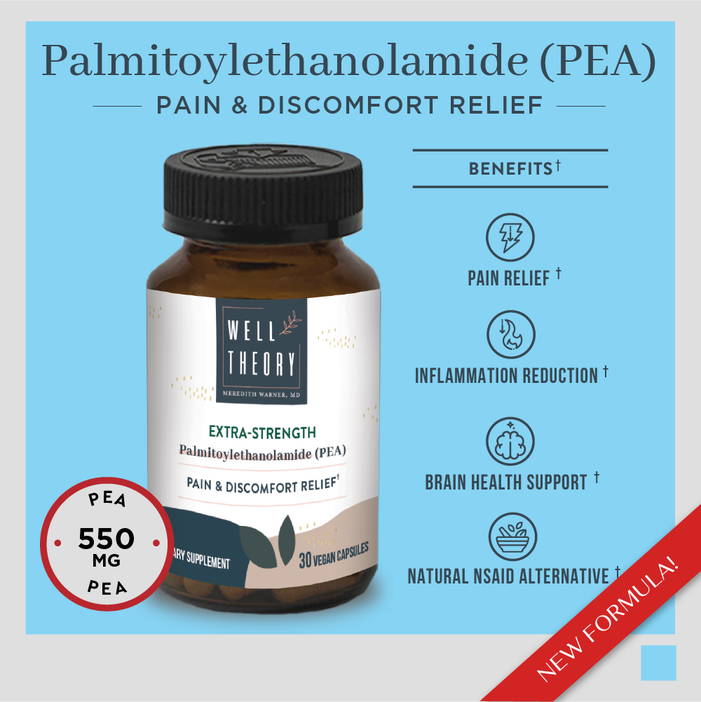 PEA (Palmitoylethanolamide)

Headaches, Muscle Aches, Tension? We've Got You Covered.
PEA (palmitoylethanolamide) is a compound naturally produced by your body in response to pain and inflammation. When taken as a supplement, PEA works with the body to calm discomfort, and support your body's nervous, immune, and muscular systems.