"Flip flops are bad for you!" "My doctor told me to never wear flip flops!" "If you're going to wear flip flops, make sure they're nice and squishy!"
No. No, no, no. These statements are not correct, or at least not fully true.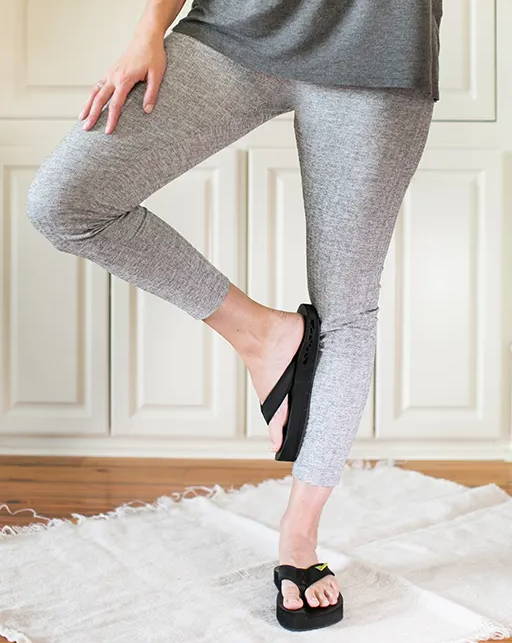 Flip flops are a staple in summer apparel, but for those with painful foot conditions like plantar fasciitis, you'll know that this is one style (along with high heels) from which you have been told to steer clear.
The truth of the matter lies in the structure of the flip flop itself.  
Yes, many types of flip flops are not going to be beneficial to the health of your feet, but that's where The Healing Sole comes in.
Here's why The Healing Sole flip flops are scientifically-proven to be good for you.
---
WHAT MAKES FLIP FLOPS BAD FOR YOUR FEET?
---
Traditionally, flip flops are not made to support or protect your feet. They really are meant to merely provide a layer between your skin and the ground.
Yes, the design is comfortable and breathable, but a thin, flat, flexible sole offers nothing when it comes to supporting your feet. In fact, it can be doing more harm than you realize.
Here's how The Healing Sole is different.
---
THE HEALING SOLE IS SURGEON-DESIGNED
---
Our footwear is not just mass-produced by large companies. The Healing Sole, first and foremost, is a family operation built and run by individuals who care about your wellbeing.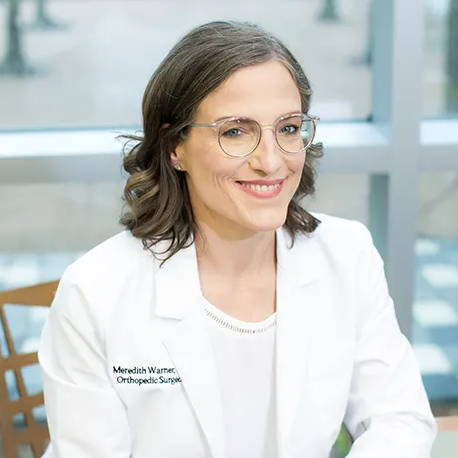 The design of our footwear comes straight from our company's founder, Dr. Meredith Warner.
Dr. Warner is an orthopedic surgeon and veteran of the United States Air Force who is passionate about helping her patients find effective, affordable relief.
One day, She had an epiphany one day and decided to turn a problem into a solution - she turned the problematic flip flop into The Healing Sole.
She created The Healing Sole as an alternative to expensive and time-consuming treatments with complications and potentially bad side-effects like surgery and injections that also don't guarantee lasting relief.
Since its initial development, The Healing Sole has garnered an 80% success rate in a clinical trial, and it has helped thousands of wearers find relief from foot pain of all types.
We don't just give you footwear that you can trust to relieve your pain. You can trust every face behind our company, from the company head and the customer service team to the warehouse staff that packages and ships your footwear.
---
THE HEALING SOLE OFFERS ARCH SUPPORT
---
The footbed of our design is where the magic is.
Dr. Warner designed The Healing Sole with a rocker bottom sole, compressible inner heel, metatarsal bar, and raised arch support all built with a structural material that gives but allows for foot strength to develop as well.
Together, these features help to stretch away tension in the muscles of the feet and offload painful areas as you walk!
The arch support in these flip flops is one of the major features that set it apart from other flip flops.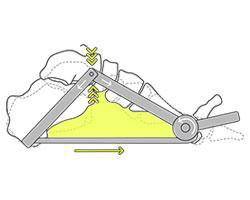 Arch support is essential to the health of your foot, offering the necessary elevation to help brace your arch during impact and push-off.
This support helps your foot carry you throughout the day, no matter how calm or how busy your schedule is.
---
THE HEALING SOLE IS NOT SQUISHY
---
Unlike the soft, squishy, flexible footbeds of traditional flip flops, The Healing Sole's footbed is designed to be healthy and structural, therefore it initially feels more rigid. This is on purpose.
For many, this is not initially a welcomed feeling – but by giving The Healing Soleour full 7-14 day break-in period, we can assure you that you will love the way they feel!
A thicker, firmer sole not only protects the foot from harsh terrain, but it also offers the right amount of structure the foot needs.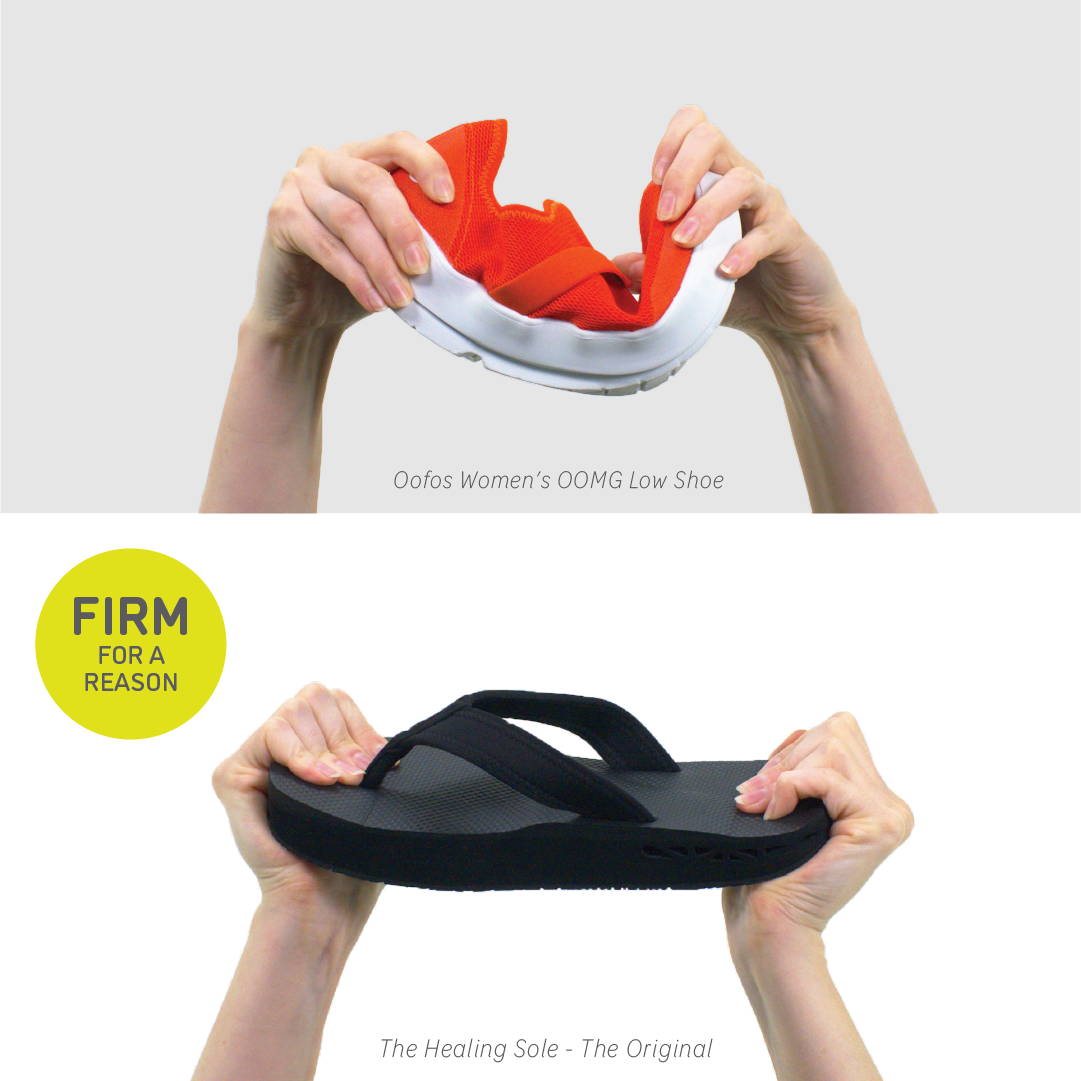 This material also allows us to integrate all of the features of the flip flop that provide the relief.
When combined with The Healing Sole's other features, your feet will be protected from foot pain and damage all day long.
At the end of the day, not all flip flops are bad for your feet. Many are, but not all of them.
When looking for a good flip flop that is designed to help you and not only look pretty, think of The Healing Sole.
---
---
At The Healing Sole, we like giving you options. The Healing Sole is available in three different styles:
Our Best-Selling Original
Our original Healing Sole flip flop is the beloved style that started it all. This flip flop is designed with Dr. Warner's purposeful features:
Our Palmer Flip Flop
The Palmer is our solution for those with conditions affecting the toes and balls of the feet, like Morton's neuroma and Hallux Rigidus – but this design works for all wearers!
The absence of the raised toe makes this design universally accessible, no matter your condition.
Before you ask, don't worry – we are working tirelessly on a closed-toed design and can't wait until we can finally share it with you! 
Each style offers the same level of support and relief so that you can find success no matter which option you choose.
INTRODUCING: OUR DUSTY ROSE PALMER!
You have been asking for new colors in our surgeon-designed footwear, and we are ecstatic to bring your our newest addition to the family.
Let's give a great big welcome to our Dust Rose Palmer flip flop!
Here's the best part. This color is available now - no preorder, no waiting! This style is selling out fast. Place your order today before this limited release item is gone.
---
---
Take relief into your own hands. Order The Healing Sole today, and pair your purchase with one of our Well Theory products for pain relief and full-body wellness starting from the inside.
With surgeon-designed and formulated products, you can rest easy knowing that success is just a step, a supplement, or an application away.