Walk through your daily routine in your mind, or something you enjoy doing. Does it involve walking or being on your feet?
If yes (and we're banking on yes), then you've likely experienced the foot pain that comes after a long jog, walking all day for work, or being home with the kids. Your feet take on the weight and pressure that comes with every step, every day.
It's time you gave them a rest.
---
Why You Need Recovery Footwear

---
We know it's impossible to stay off your feet all the time - otherwise, you couldn't get anything done. Besides, as we know, movement is mandatory for optimal health and aging. However, when we say "rest" what we're really talking about is swapping out your shoes for recovery footwear.
Not only will a good pair of recovery shoes benefit your feet, but they should also relieve the strain on your legs and the rest of your body. Recovery footwear encourages active recovery, reducing fatigue and strain in the feet, while enabling you to continue with your day.
Recovery shoes can be incorporated into any post-workout or self-care routine. Even with the best recovery shoes, it's still important to continue stretching, hydrating and nourishing the body to prevent damage or strain.
They're also not designed to cure or correct foot issues. However, when you pick out a recovery shoe that works best for you, you can find fast-acting and lasting relief.  That is because a good recovery shoe will simply enhance your own body's natural healing abilities.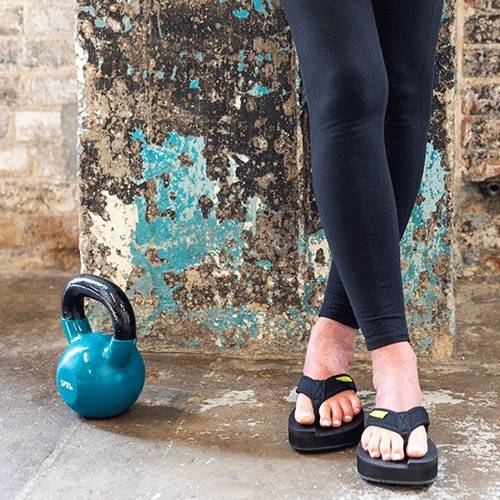 If the idea of slipping into a pair of recovery shoes for foot-pain relief excites you, then let's talk about what you can look for when picking out your next pair.
---
What To Look For In Recovery Shoes

---
When looking for a recovery shoe that will help you in the long run, you'll want to find a pair with good support.
Shoes that have a lot of cushion may feel good at the moment, but they're not adequate for stretching or strengthening the foot in a way that promotes foot health. You'll want a firm footbed (think The Healing Sole, Dansko or Birkenstocks). This sort of structure is thought to help strengthen the core foot muscles so that you can continue to get better over time.
The arch support, compressible inner heel, and non-compressible outer heel of The Healing Sole help redistribute weight placed on the foot, so you're not putting more strain than necessary on what are the usual painful pressure points.
We'd also suggest looking for a shoe with a rocker bottom when thinking of recovery. This also helps distribute weight in the foot, while also providing a gentle stretch.
So, if you're looking for a recovery shoe - look no further than The Healing Sole. Trust us, your feet will thank you.