Dr. Meredith Warner's Joint Health Multi is designed to relieve sore joints while reducing inflammation over time with natural ingredients.
Highly absorbent & unique formulation with clinically studied ingredients to improve joint health, decrease joint discomfort, reduce pain, elevate brain health, and boost energy levels.
Turmeric Root with Curcumin (95% Curcuminoids) 1000mg

Ginger Root Extract 1000mg

Palmitoylethanolamide (PEA) 300mg

Piperine 10mg


Arthritis makes it difficult to live the life you want so relieving that damaging inflammation is essential. My Joint Health Multi naturally contains anti-inflammatory ingredients like Ginger, Turmeric, and PEA that function in similar ways to common drugs used to treat arthritic pain and inflammation without the heavy medicinal fog or GI, kidney and cardiac side effects.
- Orthopedic Surgeon, Dr. Meredith Warner, Founder of Well Theory


      IT WORKS!
I bought this for my husband to try. In December 2021 he finally went to the doctor to find out what was causing extreme pain and swelling in his fingers and wrists. Advanced osteoarthritis was the diagnosis. Prescription Celebrex and turmeric were suggested, but not very effective. I saw the ad for the special blend of turmeric in this product and ordered it. After one month, the pain and swelling has significantly reduced! Thank you!
-Belinda S


     Keeps Me Playing Pickleball
I've only been using Turmeric w/ PEA for about 4 months. But, I feel it is already helping with my knee pain. I'm 68 years old and I play 4.0 pickleball tournaments. I feel Turmeric w/PEA is helping me stay on the court!
-Dee K




      Very Helpful
I have been able to tell the difference in less aches and less difficulty getting up and down from a chair.
-Marilynda L


      First timer - it Works Great
Never tried any turmeric product before. The reviews made me want to try. I had been suffering from sciatic nerve pain for 2 years and it was getting worse. I did not want to use ibuprofen for what I thought was a long term problem, so I tried your joint therapy with the tumeric and ginger. The pain diminished within an hour and steadily decreased with everyday use and now 3 months later it is gone. I am continuing with it to avoid a return of my symptoms.
-Landa C


      Now I am sure....
When I did my first review, I said I wasn't sure if the product was effective because I hadn't been on it very long and didn't want to stop taking it to see. Now I am sure - it is a GREAT product! I got lax, then forgetful about taking it and it wasn't very long, and I was in more pain than I had been when I took them regularly. The restful sleep I was getting was gone and I had more pain and mobility issues during the day. Won't let that happen again!.
-Darlene M


      Joint Health
Excellent. I suffer from liver and kidney disease so I can't use standard pain meds for my severe osteoarthritis. After seeing your reviews I decided to try the ginger and turmeric joint health. Along with the CBD multivitamins you sent with my order, my OA symptoms have greatly improved. I shared my experience using your product with my kidney doctor and he has suggested that other patients use it too. Thank you for developing these great supplements. I was a Hospice nurse for 35 years and wish I had
access to your products for my patients. I believe many disease processes and various types of pain could be managed with your products without the side effects of narcotics.
-Marie M
---
FREQUENTLY ASKED QUESTIONS
---
Q: What Is The Daily Recommended Amount of Turmeric?
A: Most research suggests that daily doses of 500-2000 mg are effective. Dr. Warner chose a daily dosage of 1000mg as a moderate dosage for long-term use. This dosage is most compatible with most people due to turmeric's tendency to cause stomach upset. This is why our formula also includes piperine to increase turmeric absorption and ginger to mitigate stomach upset and heartburn. We recommend taking the Joint Health Multi with some sort of a fat (milk, egg, yogurt).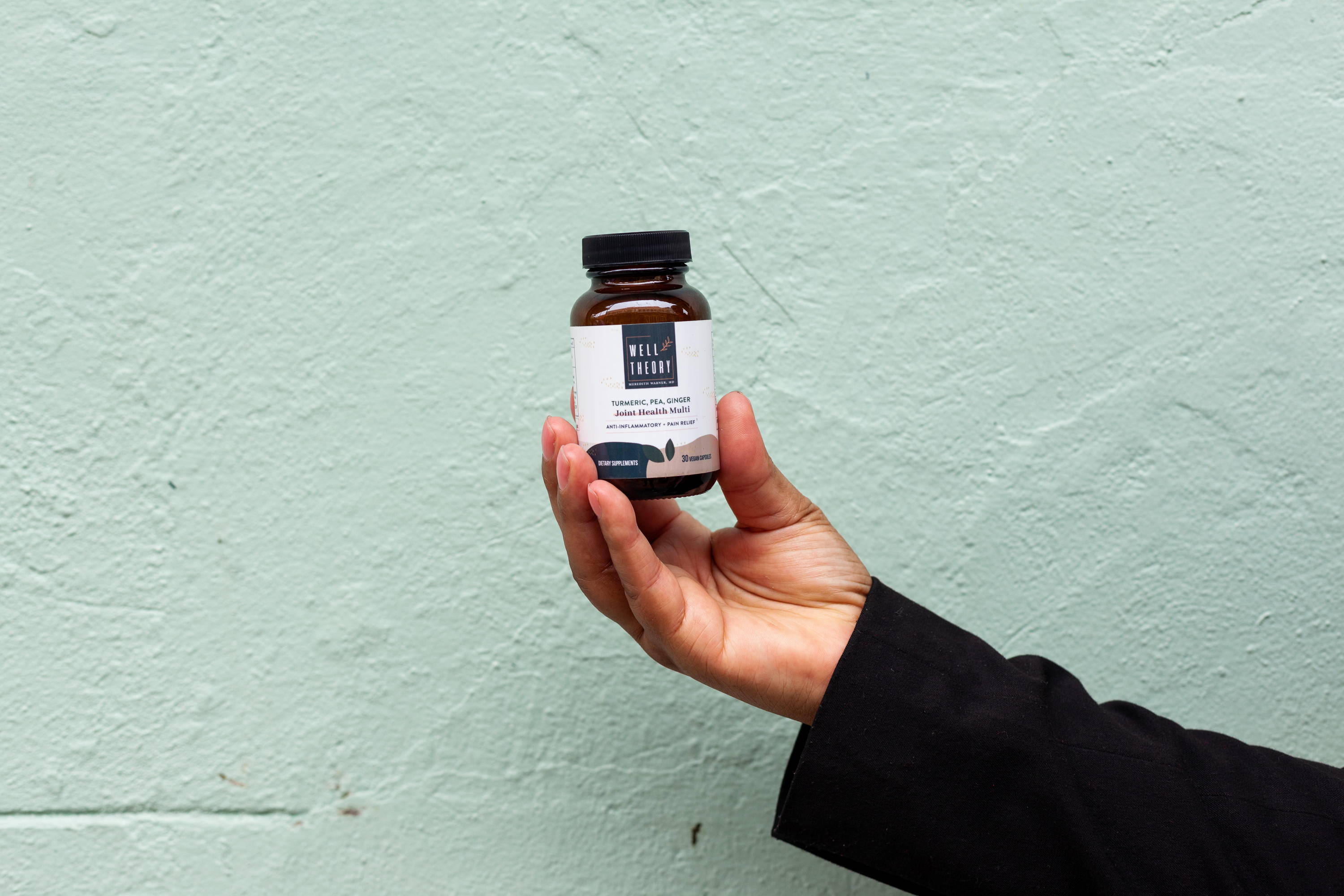 Q: Does Turmeric Cause Stomach Upset?
A: It is possible! Dr. Warner recommends taking the Joint Health Multi with a meal! Taking medicines, supplements, and multivitamins with meals helps reduce the possibility of stomach irritation that can lead to indigestion.
Curcumin is a fat-soluble substance found in turmeric. If you just take it with water, you probably are not absorbing the full dosage intended.
Taking our Joint Health Multi with a full meal that includes some form of fat will help your body absorb the turmeric and curcumin more efficiently. Whole or reduced-fat milk or yogurt are great items to provide such fats in your meal!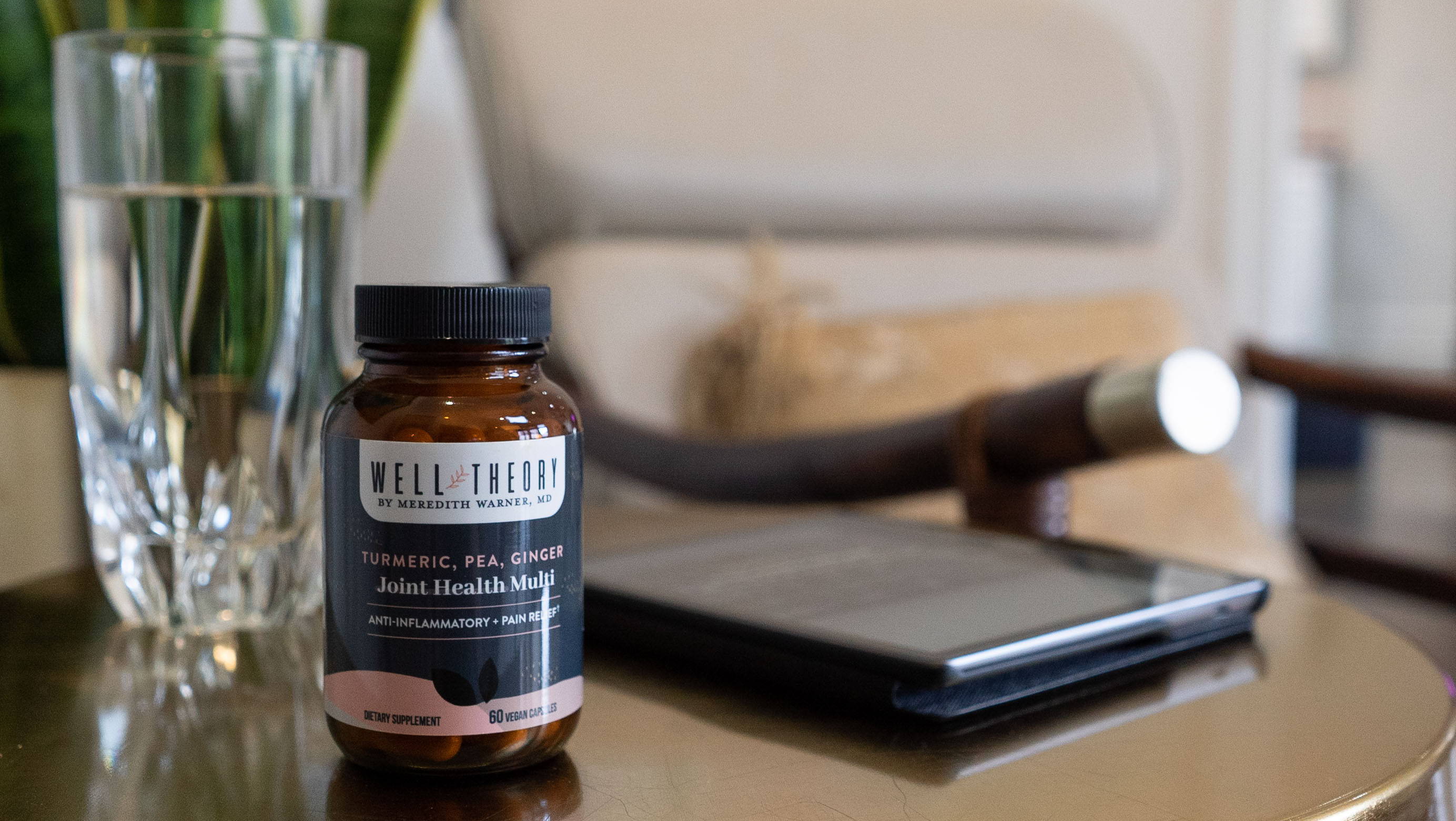 Q: Does The Joint Health Multi Help With Arthritis Joint Pain?
A: This multi contains turmeric, piperine to help bioavailability, ginger, and PEA for a powerful anti-inflammatory boost. Palmitoylethanolamide (PEA) is a natural and powerful way to manage pain, inflammation, and damage from oxidative stress. PEA is made in a similar way in humans and in plants, and it can be isolated from peanuts, soy, egg yolks, and other food sources. It's also made within your body to naturally regulate pain and inflammation. Most people simply lack enough PEA to control inflammatory pain.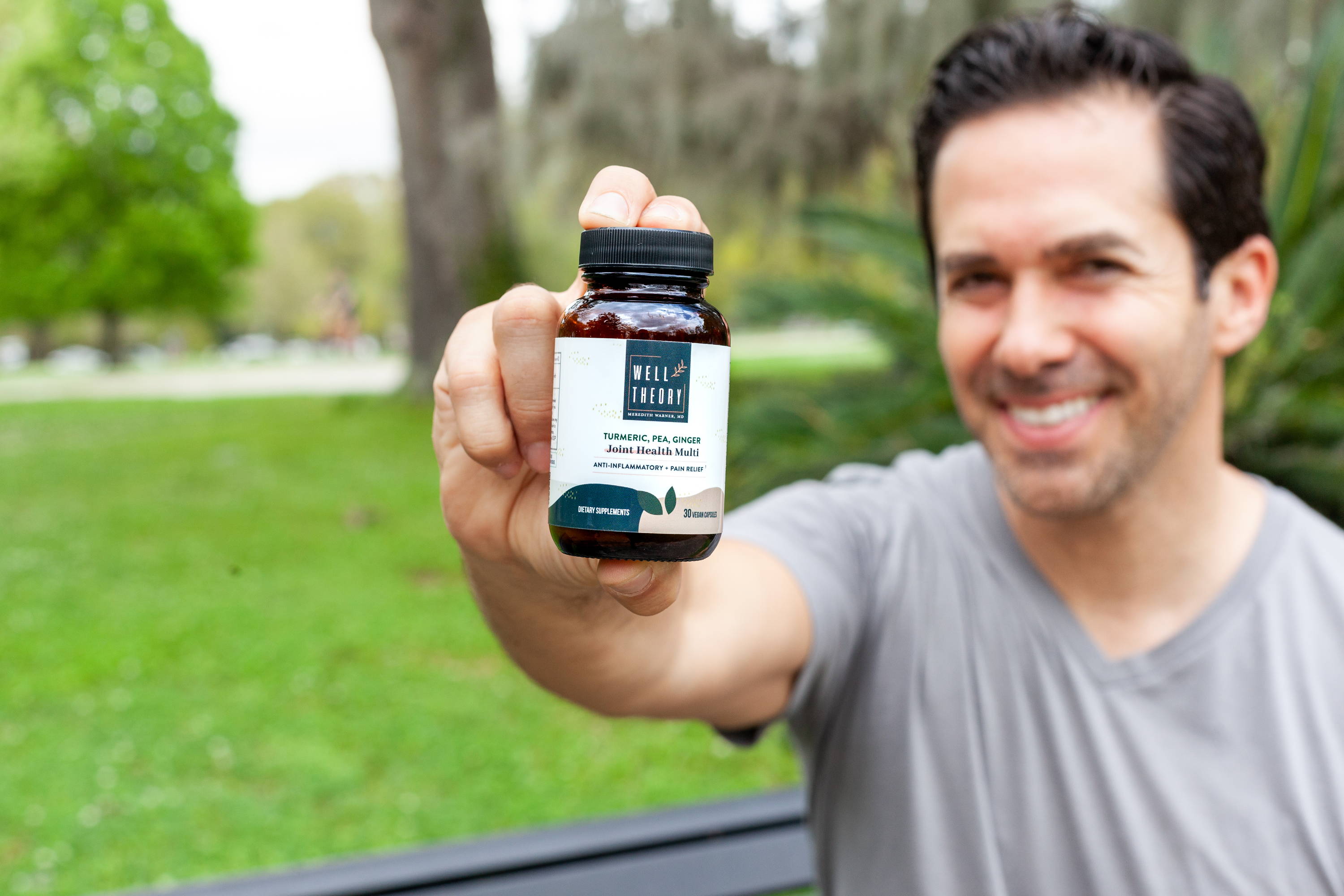 Q: Does It Fix Bone-On-Bone Arthritis?
A: For bone-on-bone arthritis, the ingredients in our Joint Health Multi will not regrow cartilage – your best option for that would be adult stem cell therapy, PRP injections, and other regenerative medicines. That said, the pain from being 'bone on bone' can absolutely be managed with methods like natural supplements. If the pain is managed, the clinical entity of 'bone on bone' becomes much less relevant.  
Additionally, we would suggest our article about bone on bone health, where we've included a video from Dr. Warner addressing surgery concerns.
Our product helps reduce inflammation and pain in and around the joints, and may slow the loss of cartilage by doing so – but only regenerative medicine, or transplants, can repair lost cartilage. We would recommend seeking a second opinion if you are concerned about having surgery, and work with a physician to explore your best options for restoring function in your joint. Our products can work alongside these measures to holistically reduce pain and improve range of motion!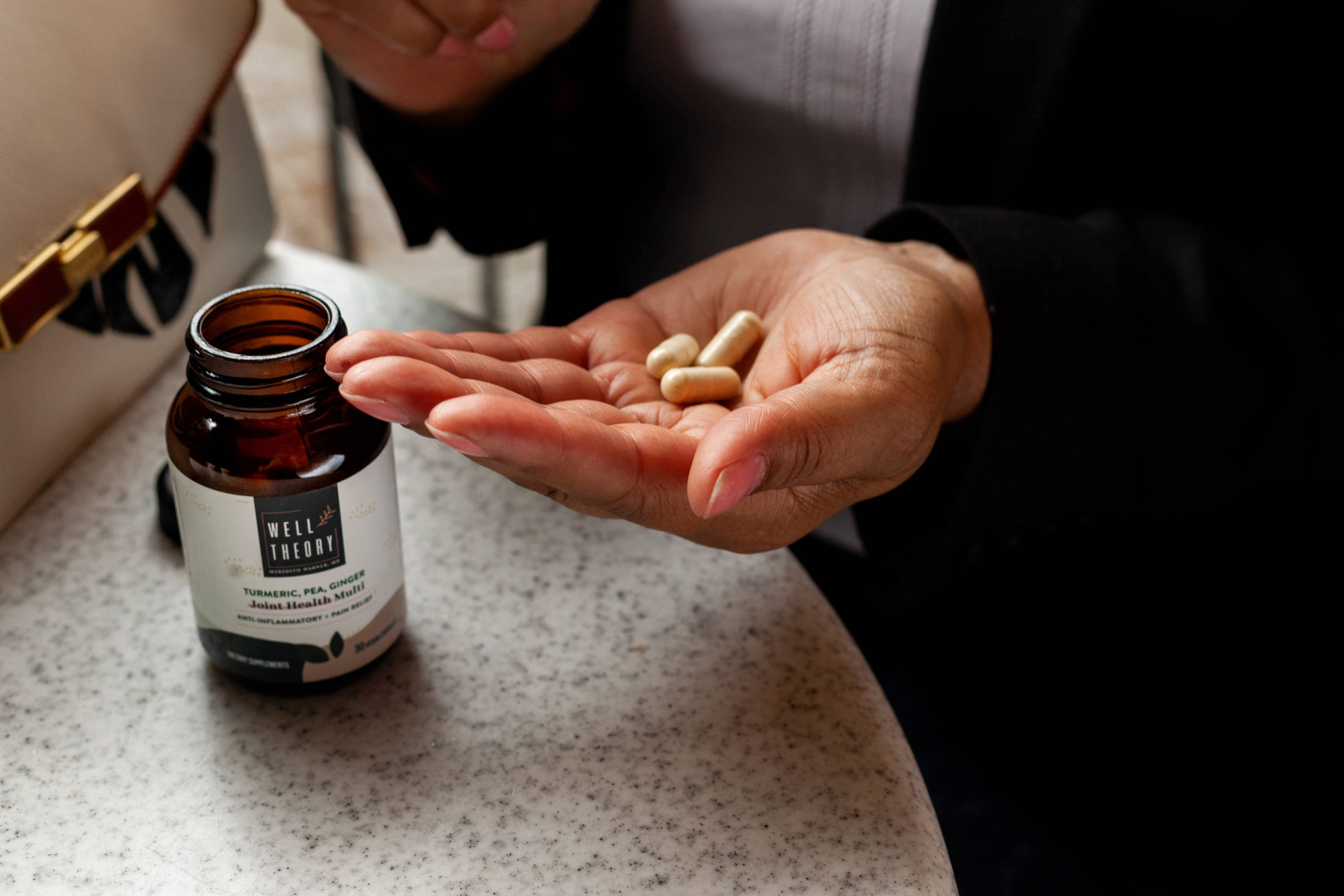 Q: Does Turmeric Affect Kidney Function?
A: Curcumin/turmeric is generally safe to consume and would not cause any damage to the kidneys. However, for a person who is prone to develop kidney stones, eating a lot of turmeric may increase the chances of developing kidney stones. But isolated curcuminoids do not have the same effect for kidney stones.  
The reason for this being the high amount of oxalate present in turmeric. The oxalates are soluble in nature which means that they bind with calcium which results in the development of an insoluble form of calcium oxalate which deposits to form stones in the kidney. Generally, there is little or no oxalate in a curcuminoid extract. Our Joint Health Multi is a 95% curcuminoid extract.  
People who already have kidney stones or are susceptible to developing kidney stones are recommended to keep their turmeric intake to the utmost minimum. That means eating less curry, but taking an extract with simply the active ingredient should be okay.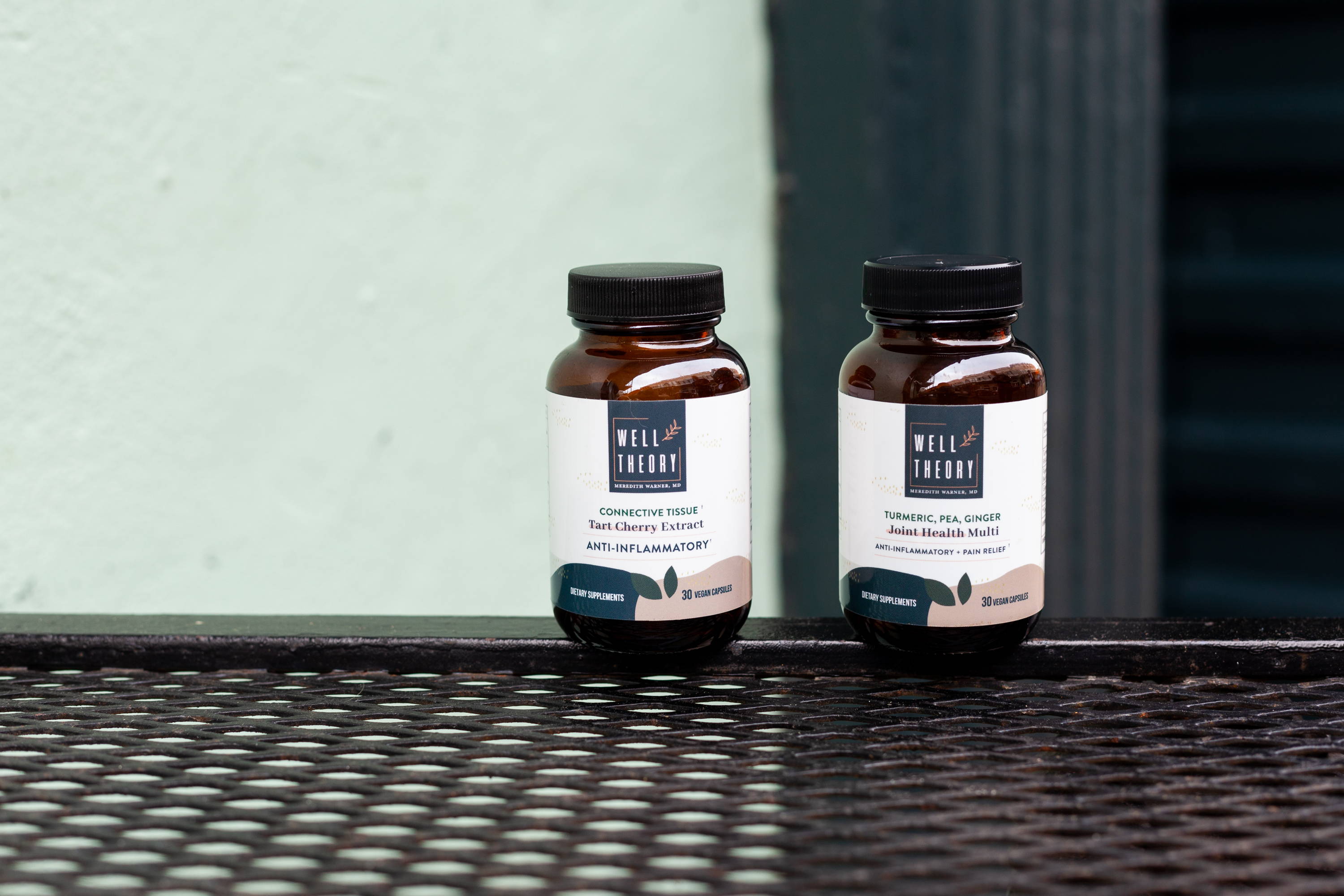 Q: Is Turmeric Okay If I Have Liver Problems?
A: In certain doses, these supplements containing turmeric or curcumin (the primary active ingredient in turmeric) may be beneficial for liver detox and improved function. In cases of nonalcoholic fatty liver disease, curcumin supplementation has been shown to reduce liver fat content. There aren't any consistent cases displaying liver damage as a result of appropriate turmeric supplementation.
Turmeric supplementation is rarely cause for concern. These rare cases of turmeric supplementation associated with liver damage or other concerns, are the result of extremely high doses of turmeric, over long periods of time. This is simply not the case with our Joint Health Multi, which falls within a safe range for daily use (take as suggested). A beneficial amount of turmeric lands between 500-2,000 mg per day. Tolerable doses have been documented as high as 12 grams per day for 3 months. Our Joint Health Multi contains 1,000mg of turmeric per daily serving. Actually, our Multi is 95% curcumin, which is the active ingredient of the turmeric root. Even so, it was formulated with safety in mind.
Curcumin inhibits nuclear factor-kappa-beta (a pro-inflammatory modulator). Curcumin is also a potent antioxidant. Curcumin is thought to actually attenuate the liver damage associated with toxins, iron overdose, gallstones, etc. Curcumin has been studied many times with regard to how beneficial it is for liver cancer, liver damage, heavy metal liver damage, etc. As always, if you have liver damage, you should speak with your treating physician prior to taking any supplements to augment your current treatment plan. We are happy to note more and more work is being done in the basic science of how curcumin helps the liver.
Also Available In This Bundle
Our Inflammation Bundle features the combined anti-inflammatory and antioxidant abilities of the Joint Health Multi and Tart Cherry Extract!