Dr. Meredith Warner's Joint Health Multi is designed to relieve sore joints while reducing inflammation over time with natural ingredients.
Highly absorbent & unique formulation with clinically studied ingredients to improve joint health, decrease joint discomfort, reduce pain, elevate brain health, and boost energy levels.
Turmeric Root with Curcumin (95% Curcuminoids) 1000mg

Ginger Root Extract 1000mg

Palmitoylethanolamide (PEA) 300mg

Piperine 10mg
This cream includes skin-nourishing ingredients like shea butter, aloe vera juice, hyaluronic acid, myristyl myristate, and witch hazel.


Arthritis makes it difficult to live the life you want so relieving that damaging inflammation is essential. My Joint Health Multi naturally contains anti-inflammatory ingredients like Ginger, Turmeric, and PEA that function in similar ways to common drugs used to treat arthritic pain and inflammation without the heavy medicinal fog or GI, kidney and cardiac side effects.
- Orthopedic Surgeon, Dr. Meredith Warner, Founder of Well Theory


      This Product works
If my lower back is bothering me due to some arthritis and I'm having a hard time getting to sleep, I just rub some of this cream in and it really helps reduce the ache and allows me to fall asleep.
-Jenny J.


      Daily ritual
I absolutely love the pain relief and recovering cream. I started off using it every morning and now I have began using it every night as well. It provides much-needed relief! Although it is a small jar the cream surprisingly lasts.
-Sarah P.


     Great product
I have tried so many creams. This is the only one that actually works!! Love it!
-Anonymous



     
      Game Changer!
I'm very active with Brazilian Jiu Jitsu and outdoor activities, so when I began to suffer from plantar fasciitis, it was crippling to say the least. I was lucky to find and try The Healing Sole sandal which I found to be great in relieving the pain. However, it was not until I combined it with the pain relieve cream that my recovery skyrocketed. Getting out of bed and taking those first very painful steps are no longer an issue. I have my life back. I owe it all to the pain cream and sandal. I'm always recommending the pain cream to my friends who suffer any joint, ligament, and muscle pain and stand by this produce and that it works!!
-Sonny S.


       Awesome pain reliever !
I have used this cream for osteoarthritis of the knees and back pain. It is awesome. It provides great relief . I also put the jar in the refrigerator and applying it cold provides further comfort. I never allow myself to be without this product.
-Edith D.


      Pain Relief Cream Extra     Strength brings relief
I use the Extra Strength Pain Relief Cream on the tops of my feet after I get home from work. I'm a teacher and am on my feet all day. I wear custom orthotics, compression socks, and good athletic shoes. Even the tops of my feet hurt by the time I get home. I rub the cream in and sit with my feet up for about ten minutes to let it soak in and has helped every time I've used it!
-Deborah T.
---
FREQUENTLY ASKED QUESTIONS
---
Q: What Is PEA?
A: Palmitoylethanolamide (PEA) is a natural and powerful way to manage pain, inflammation, and damage from oxidative stress. PEA is made in a similar way in humans and in plants, and it can be isolated from peanuts, soy, egg yolks, and other food sources. It's also made within your body to naturally regulate pain and inflammation. PEA is considered part of the endocannabinoid system.  
It calms pain and sensitivity when massaged into the affected area. Its anti-inflammatory, pain-relieving properties encourage fast acting, natural recovery from muscle, joint and ligament pain.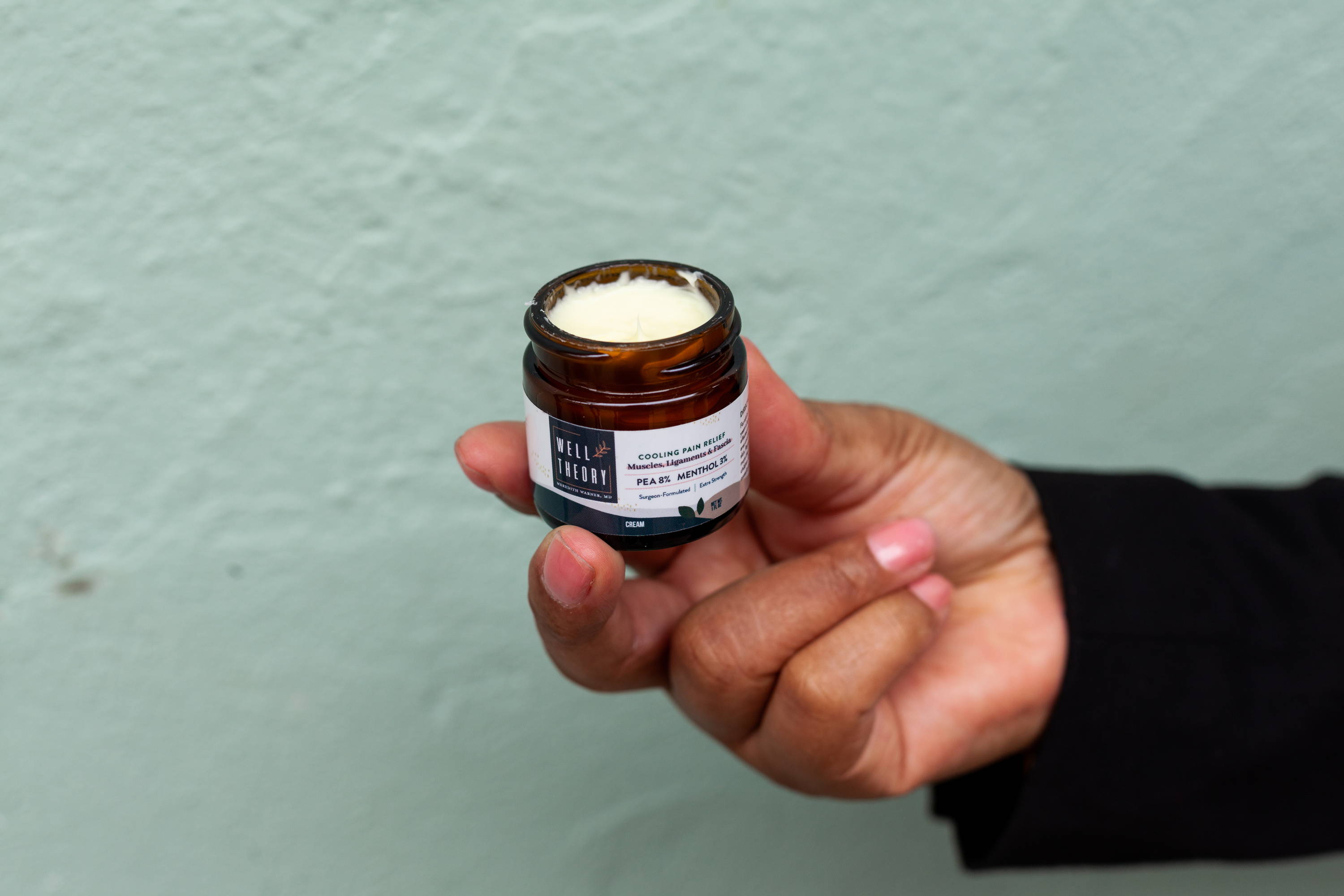 Q: How long does one jar last?
A: Each jar contains 1 oz of product. We recommend applying a pea-sized amount of the cream once or twice a day to relieve your symptoms. On average, our customers who use a typical amount of cream a day can expect it to last about a month. Of course, this depends on the amount you apply during each application, how many times a day you apply it, etc.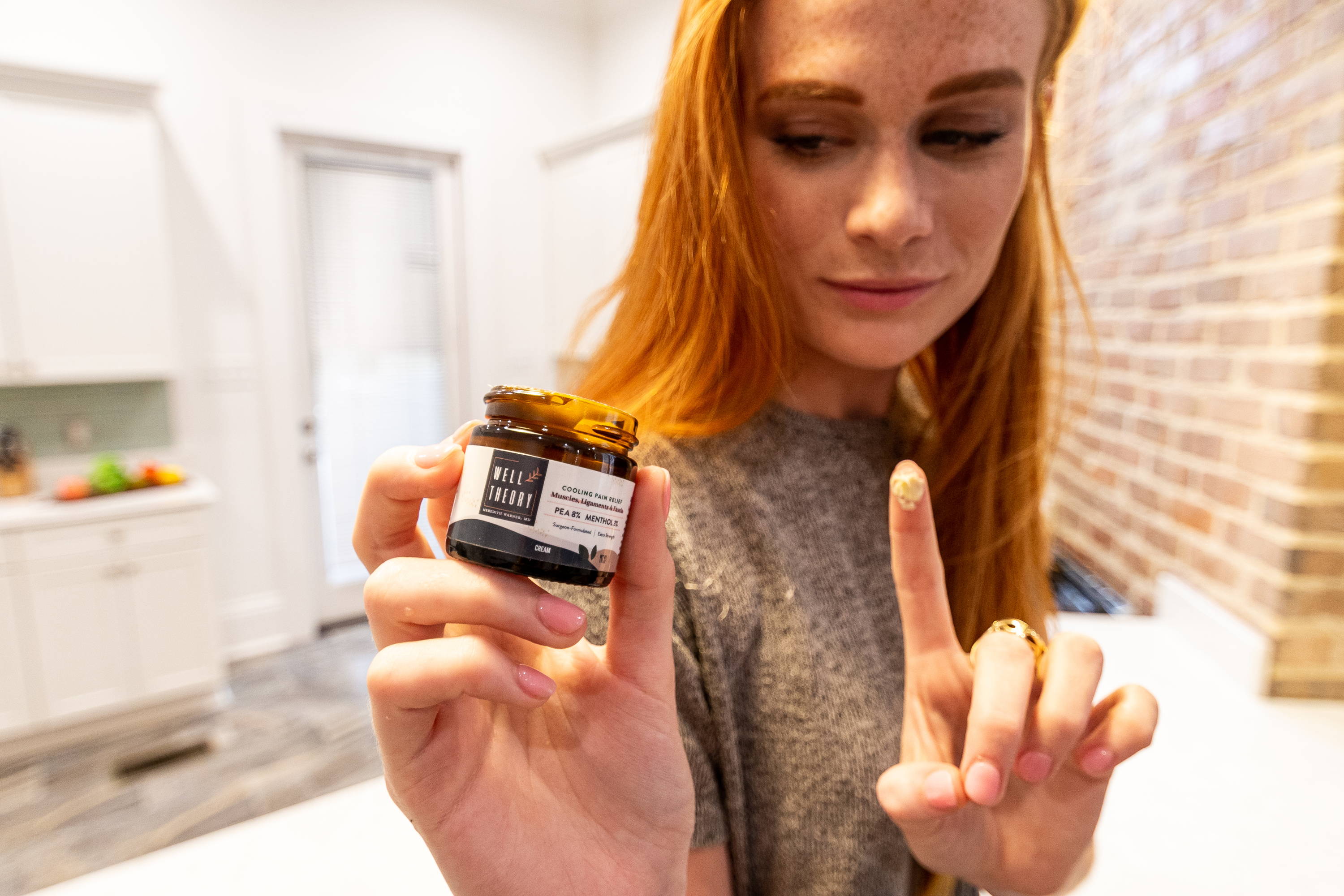 Q: Does the cream have a scent?
A: Yes, the Menthol and essential oils we include in our Pain Relief Cream formula do have a scent. We included these ingredients for several reasons.
Menthol cools on contact to alleviate sensitivity and reduce joint and muscle pain. It also works to hydrate and calm skin irritation, while lessening the appearance of dark spots.
Our blend of essential oils includes Peppermint, Frankincense, Bergamot, and Wintergreen. These oils relieve pain, muscle spasms, inflammation, and skin irritation, and they also offer aroma-therapeutic properties.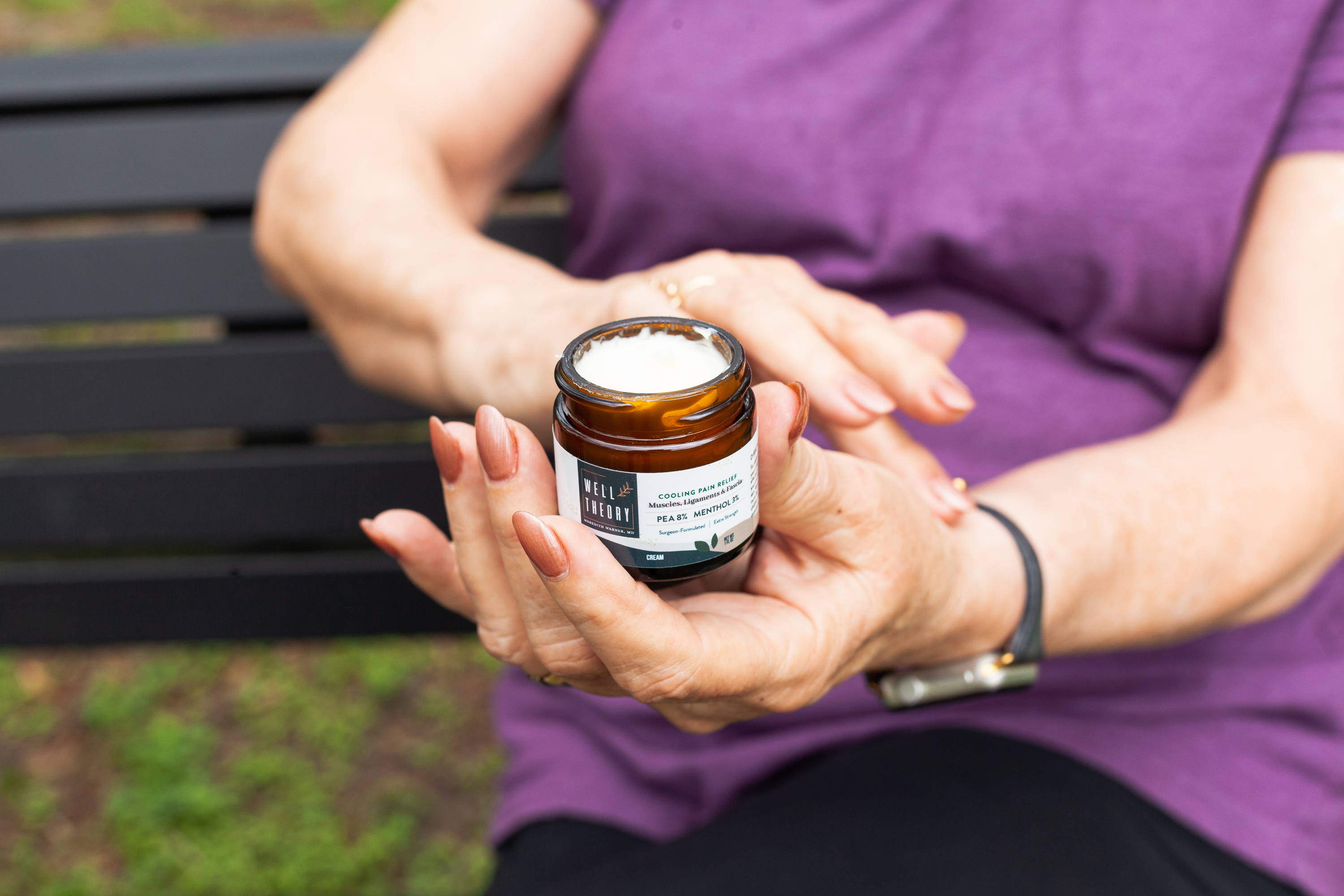 Q: Will this cream dry my skin?
A: Dr. Meredith Warner incorporated skin-nourishing ingredients in the Pain Relief + Recovery Cream, so you're benefiting your skin while reducing joint and muscle pain! Shea butter, Aloe Vera Juice, Hyaluronic Acid, Myristyl Myristate, and Witch Hazel help to hydrate and soften your skin, while reducing irritation.
The Turmeric included can also reduce surface-level scarring, while Rosehip Oil hydrates the skin, lightens scars, and provides antioxidant protection. This cream benefits your health from the inside and out!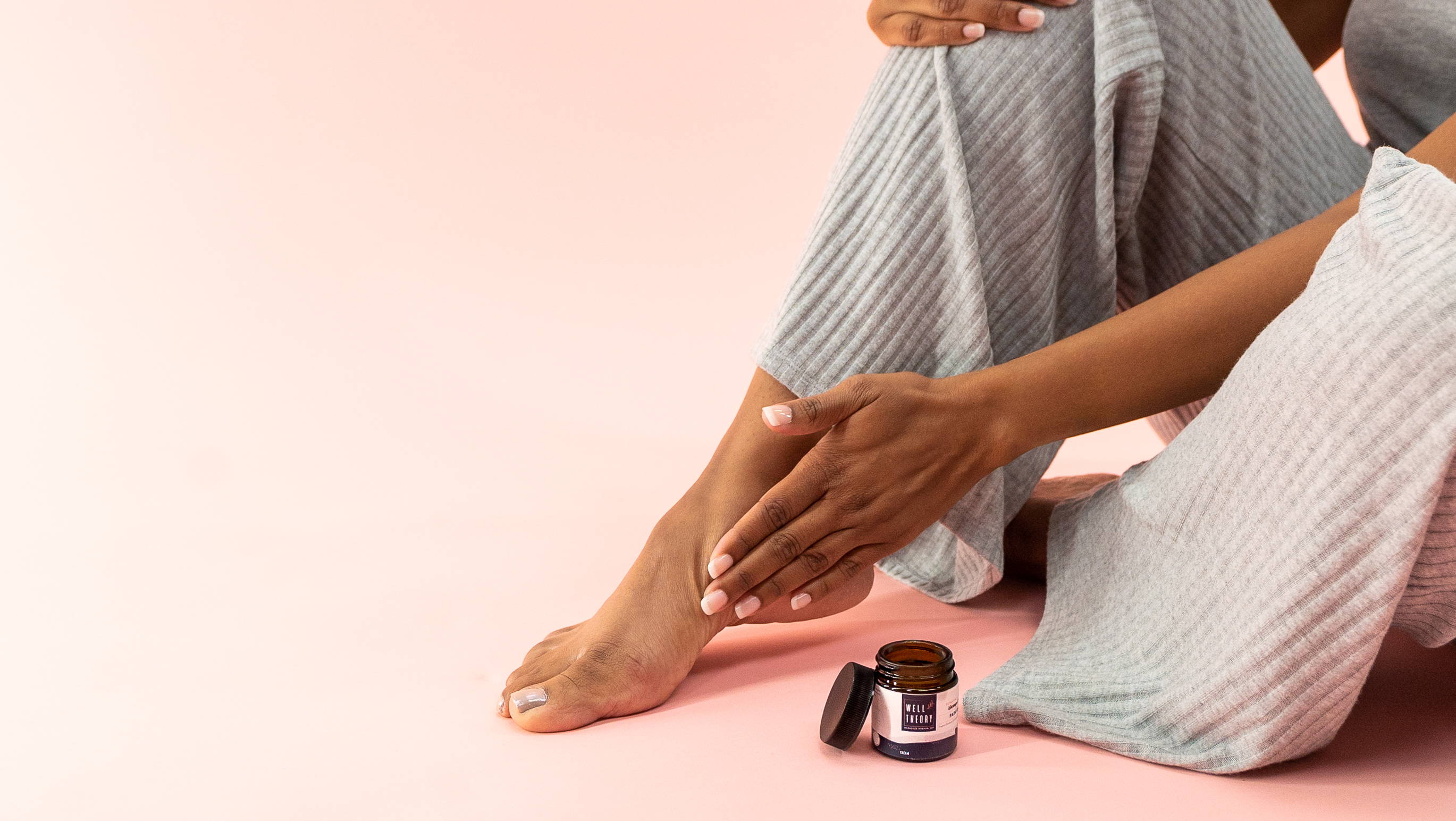 Q: How often can the Pain Relief + Recovery Cream be used?
A: Our Pain Relief + Recovery Cream is very safe to use! It can be used daily, whenever you find it necessary to reduce inflammation or pain. Dr. Warner may use it several times on a surgery day - so feel free to use this topical pain reliever as needed.
Other over the counter pain-relief creams don't have the same entourage effect that these unique ingredients provide. So, apply this cream with confidence, knowing that it's formulated and used by Dr. Meredith Warner. We of course, always recommend consulting with your treating physician prior to adding any new supplements or topical creams to your routine.
Also Available In This Bundle
Our Pain Relief + Recovery Cream is also available as a bundle with the Original 2.0!