When warm weather starts to come around, we start to spend a lot more time outside.
Of course, being outside and enjoying warm weather activities means we stop wearing long sleeves and jeans, and opt for shorts and t-shirts.
---
FLIP FLOPS DON'T OFFER SUPPORT FOR YOUR FOOT
---
The most common reason your doctor will tell you not to wear flip flops is because they offer absolutely no support to your feet. You already know that arch support is important - but do you know why it is essential?
When someone mentions the "spring in your step", this comes directly from your arch.
The arch of your foot provides the necessary "take off" pattern, or push off, for every step, if you will.
The arch of the foot supports your body weight and the tendons that are responsible for your motion.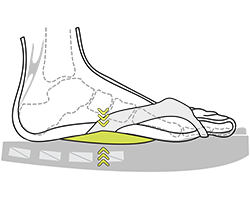 If you deal with heel pain, foot pain or conditions like plantar fasciitis, you've more than likely been told on more than one occasion that one of the most important things you can do is wear a good pair of supportive shoes.
In most cases, your average flip flop is a very thin piece of material with a strap that doesn't provide any arch support, fits loosely to the foot, and offers no protection or support to the heel of your foot.
In contrast, a good supportive shoe will fit your foot snuggly, provide adequate arch support and support the foot as a whole with a firm, supportive sole.
A flip flop, by nature, just cannot offer this.
---
FLIP FLOPS PROVIDE A SLOPPY FIT
---
In order for you to get the most out of your footwear, your shoes need to fit properly.
More often than not, men and women develop foot issues due to wearing a size that just doesn't fit them optimally. For example, if your footwear is too small and too tight, this can lead to calluses, blisters, and even issues with your toenails.
When in doubt, consult with a professional who can measure the length and width of your foot. In some circumstances, they may even be able to tell you the optimal arch support for your particular needs.
Flip flops are a prime example of footwear that traditionally does not conform to the shape of your foot.
Since traditional flip flops are not designed to fit snug on your foot, they create a greater risk of injury if you wear them all day long.
In a study done by the Consumer Product Safety Commission, flip flops were shown to be the cause of around 25,300 out of 198,437 emergency room visits for shoe-related injuries.
---
THEY PROVIDE NO REAL BENEFITS TO YOUR FOOT
---
If you are wearing squishy, unsupportive flip flops everyday, you aren't doing your feet any favors. In fact, you are very likely contributing to a fast decline in your overall foot health.
Most flip flops provide no real support for your foot and can present an injury risk. There are no real benefits offered.
Without even realizing it, you may be promoting alignment issues like pronation, or you may even be increasing the risk of fallen arches, lower back pain, or conditions including plantar fasciitis, heel spurs, and tendonitis.
That being said, you still don't have to give up on flip flops - you just need to know what the factors are that make up a good shoe.
A good shoe should do more for your feet than fit well. A great shoe will actually benefit you simply by wearing them.
When you're wearing the right pair of shoes, your feet are comfortable, your arch is supported, and your heel is being given the protection it needs to prevent injury and conditions like plantar fasciitis.

---
WHY THE HEALING SOLE IS DIFFERENT
---
The Healing Sole flip flop was designed to be used as a recovery device.
We're often asked why we would recommend wearing a flip flop as a way to recover from heel pain, and the answer is pretty simple. We know people want to wear them, so we created a flip flop that isn't bad for your feet.
A traditional flip flop provides no support to the foot, but The Healing Sole is actually a medical device disguised as a flip flop that provides the snug fit you need, with features like arch support and non-compressible heel that allows you to recover while you wear it!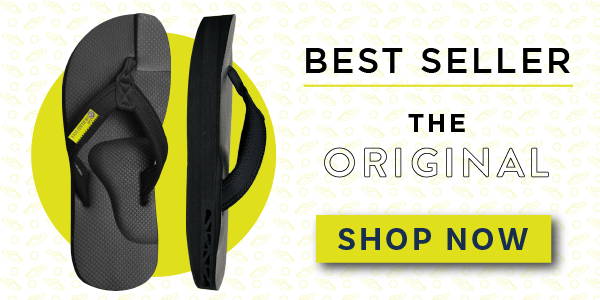 We designed The Healing Sole to be worn occasionally, after a long day on your feet, and to be used as a recovery device rather than an all-day shoe.
People who suffer from conditions like plantar fasciitis have been routinely told they cannot wear flip flops, and we wanted to find a way to change that!
When worn as directed, The Healing Sole helps your feet recover by reducing the stress placed on your feet, gently stretching the plantar fascia, and providing adequate support to the heel and arch of the foot, with a rocker bottom sole design to reduce the overall stress of the foot.
Simply put, The Healing Sole isn't your average pair of flip flops.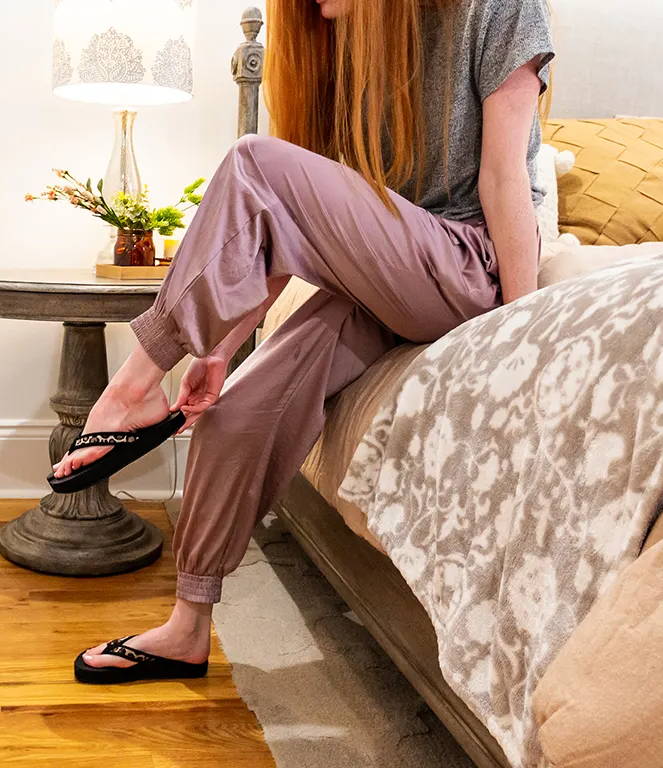 Instead of being flat and flimsy, The Healing Sole is designed with high-quality features that leave your feet happy and healthy:
A rocker bottom sole stretches your foot with each step
Raised arch support cradles and supports the arch
A metatarsal bar relieves tension in the forefoot at the base of the toes
A compressible inner heel offloads stress and pressure where you feel it the most in your heel
Firm, compressed EVA foam makes up the sole, protecting your feet from stress and impact
Together, these features provide you with support and protection that you can't find in traditional flip flops, all without having to give up a spring and summer staple.
We pride ourselves in the options we offer, and we are busy at work developing even more styles - but we also know this can be confusing when deciding which style to choose.
Lucky for you, we have broken down the major differences between our beloved Palmer and original flip flops to help you cut out the guesswork!
If you are ready to find relief without giving up your favorite summer footwear, The Healing Sole is your answer. Order your pair today.