At The Healing Sole, we talk a lot about what it means to Live With Sole. This motto is laced throughout the entirety of our company, from the way our product is designed to the way we run our customer service. Our footwear has been lovingly and personally designed to help thousands of wearers take recovery into their own hands and empower them to improve their quality of life.
We want to tell you more about our company and why we do what we do.
---
HOW THE HEALING SOLE BEGAN
---
Dr. Meredith Warner is a practicing orthopedic surgeon in Baton Rouge, Louisiana. Dr. Warner spent four years serving in the United States Air Force as an active duty surgeon and deployed to both Iraq and Afghanistan. She is a professor of orthopedic surgery at Louisiana State University and is board-certified and fellowship-trained in foot and ankle orthopedic surgery.
Dr. Warner started her private practice, Warner Orthopedics & Wellness, in 2013 where she treats all types of orthopedic problems. For example, she sees many patients with work injuries and foot, ankle, and spinal injuries along with sports injuries such as shoulder strains and ankle sprains.
Dr. Warner is an expert in the treatment and diagnosis of fascial and connective tissue disorders, and she has a passion for the beautiful function of the human body.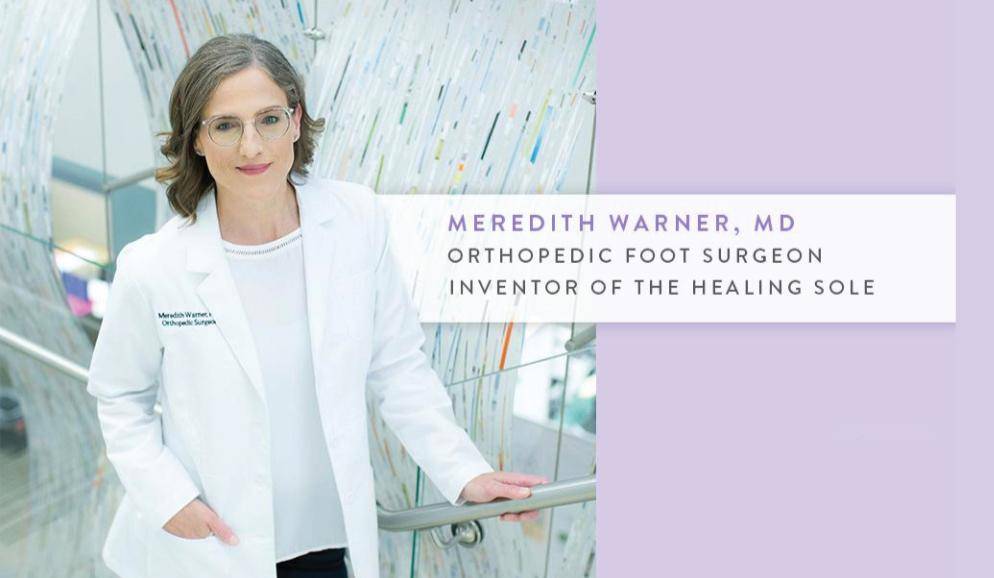 At her clinic, Dr. Warner has treated numerous patients for plantar fasciitis and other painful foot conditions. While surgery may be a valid form of treatment, Dr. Warner wanted to provide her patients with other options that would allow foot pain sufferers to find relief at home without surgery or expensive treatments that can have bad side-effects. Using her understanding of how fascia and connective tissue perform and become problematic, along with the best treatment methods for that, she was able to develop this empowering, non-operative treatment for foot pain.  
This is why The Healing Sole came to be. Dr. Warner recognized that foot pain was essentially an unsolved problem for millions of hard-working people. Most treatments offered by the medical community were too expensive, time-consuming, and expensive for her taste. In the years since its development, The Healing Sole has released several designs (with many more to come!) and helped countless men and women get back to the lifestyles and activities they have loved without being slowed down by pain.
---
---
How does The Healing Sole work? It's all in the design.
The Healing Sole is designed with three main features that work together to offload stress from the feet and alleviate pain and muscle tension:
A

moderately-raised arch

offers crucial support for your foot and reduces stress throughout the legs and back.

The curved

rocker bottom sole

alleviates tension on the plantar fasciitis and helps to protect the sole from impact as you walk.

The heel provides a combination of a

compressible and non-compressible heel

to reduce pressure on the heel for the perfect balance of comfort and support.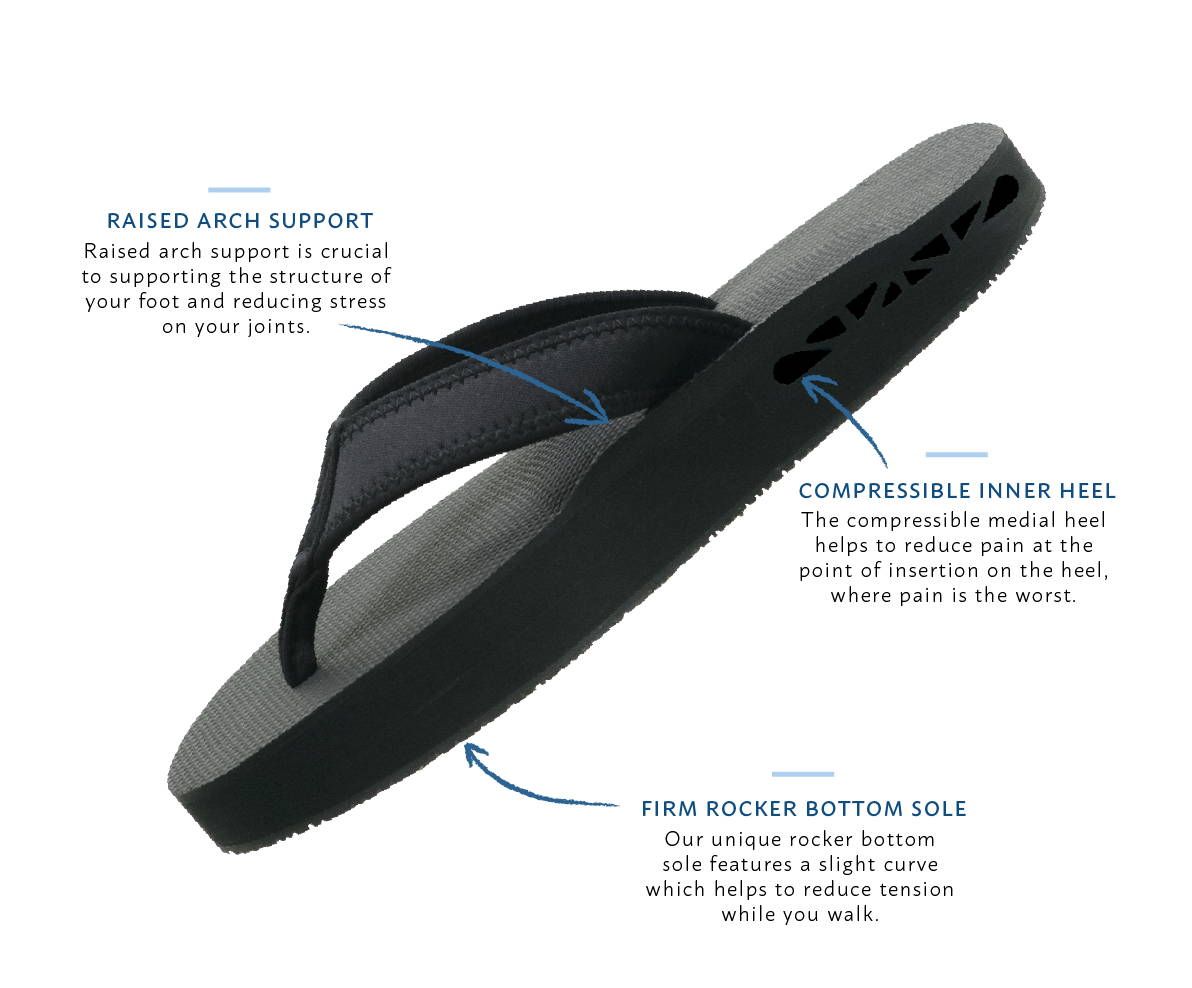 These design features are synergistic with a modified metatarsal bar and a material that provides adequate structure to allow the foot to reduce stress across fascia, muscle, and joints. Together, the features of The Healing Sole become much more powerful and effective than they could ever be alone. All of our styles of footwear have these same features with slight variations to meet your needs.
In addition to these features, our best-selling original flip flop features an elevated area under the toe termed a Cluffy Wedge®. This raised toe helps to further stretch a portion of fascia with each step. Our Everett sandal is designed just like our original flip flop, but it trades the toe post for comfortable crossover straps and an adjustable ankle strap. Our final style, the Palmer flip flop, shares the features of our original flip flop without a structure under the big toe, making this the perfect choice for those experiencing pain in the toes and balls of the feet. The Palmer is sleek and allows people with great toe problems to enjoy the benefits of this shoe, too.
We are constantly developing more styles and color options, so make sure to follow along for our exciting new releases that will be available sooner than you think!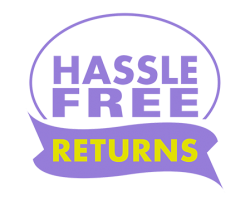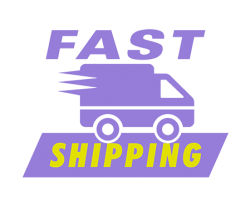 ---
---
Just a few hours of wear in the morning and evening can help to relieve pain and, as our customer Donna Costello shared, can "help your quality of life like nothing else has."
Are you still on the fence? We want to help make your choice easy. That's why we offer a 30-day satisfaction guarantee so that you can make sure The Healing Sole works for you. Give your flip flops 7-14 days to break-in. Wear them first thing when you wake up and at the end of your day to allow any sensitivity to melt away. Our footwear will mold to your individual foot shape and walking pattern and aid in recovery after a long day on your feet, after a workout, or on-the-go. If you don't find relief, simply return them to us within 30 days for a refund.
Please remember, this shoe is designed to promote optimal foot health through natural healing. This is a great way to maintain foot health regardless of the amount of pain relief one may feel.  
We also offer size exchanges within 14 days of receiving your shoes. Process exchanges or returns here on our website or contact our customer service team at support@thehealingsole.com.
Ready to Live With Sole? Order today and take relief into your own hands!