---
---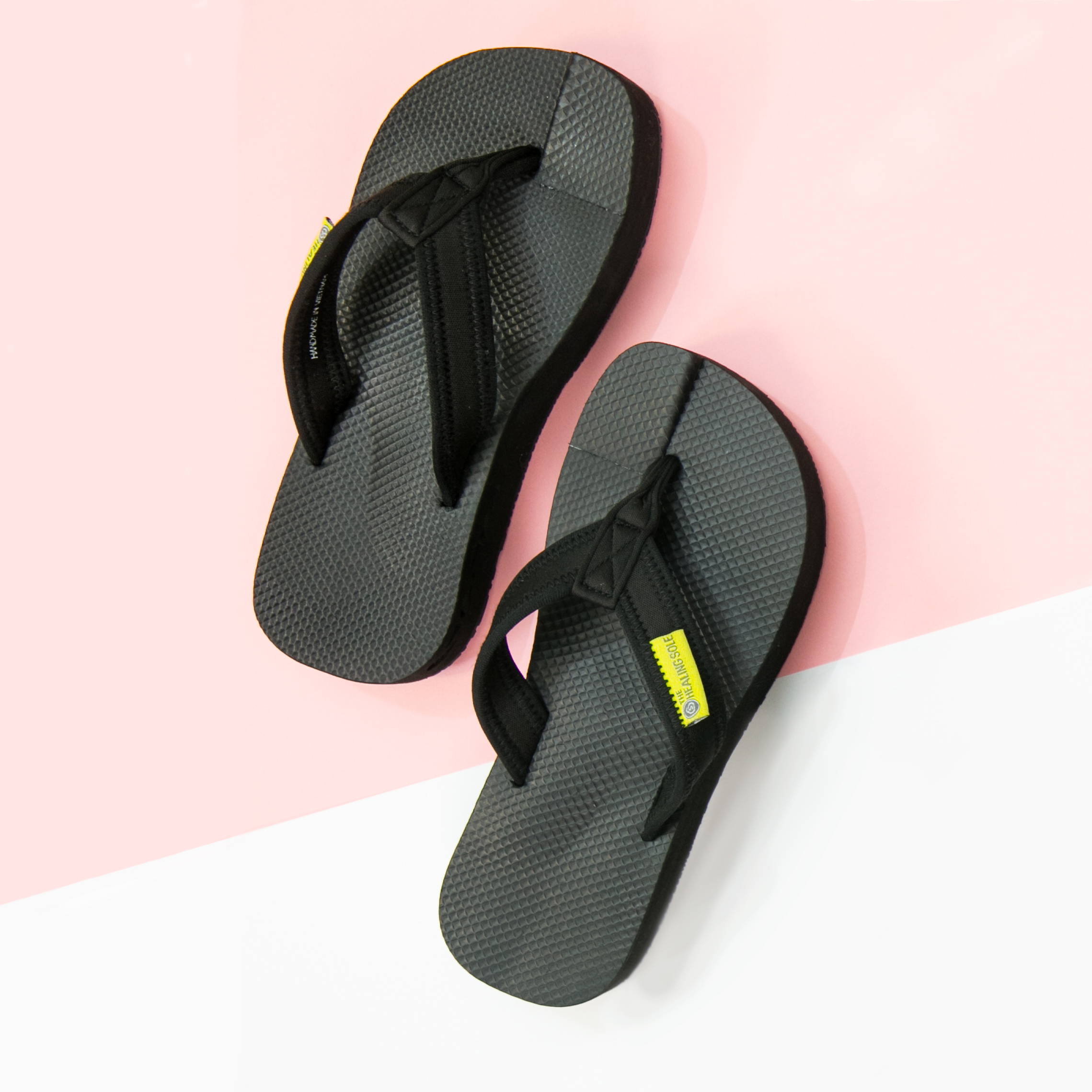 Our best-selling, patented flip flop is designed for pain relief and overall foot health. With moderately raised arch support and metatarsal bar, a combination compressible and non-compressible heel, and a rocker bottom sole, our flip flops alleviate pain and promote lasting foot health as you walk.
Our footwear has an 80% success rate and 96% approval rate in our clinical trial at relieving plantar fasciitis pain and other painful conditions. If you are ready to add your success story to our library, our flip flops are a fantastic choice for you.
---
---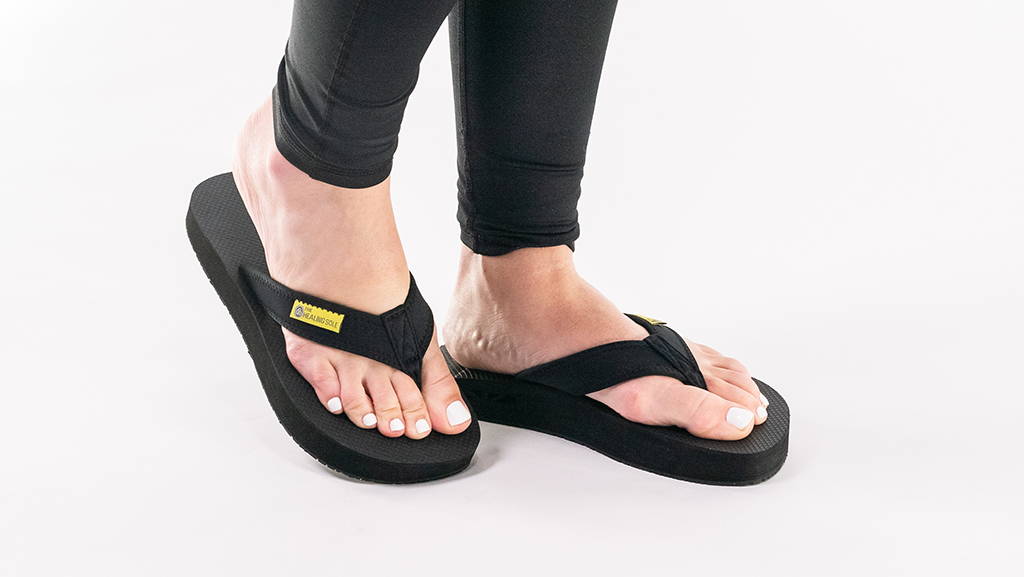 The Palmer is the newest addition to The Healing Sole family. The Palmer flip flop shares the same design as our original flip flop but in a trimmer profile that allows for more forefoot-based problems to be improved. This patent-pending style is perfect for those with bunions, hammertoes, Morton's Neuroma, Hallux Rigidus, and more.
For those with conditions affecting the great toe, this design relieves forefoot and heel pain by improving flexibility and the overall function of your joints. The general premise of the design is to offload painful areas, to de-stress the bones, joints, and muscles of the foot, to gently stretch the Achilles and plantar fascia, and to cushion the fascia and spurs appropriately. Additionally, The Palmer is designed to minimize painful motion at the ball of the foot (metatarsophalangeal joints).
---
---
We introduced our Everett sandal in response to our wearers who "don't like things between their toes." This new style incorporates the features of our original flip flop – but trades a toe post for comfortable crossover straps and an adjustable slingback.
*Please note that our Everett sandal does run narrow, so if you wear wide widths, consider our original flip flops or our new Palmer flip flops.
---
PAIN-RELIEVING CREAMS & SPRAYS
---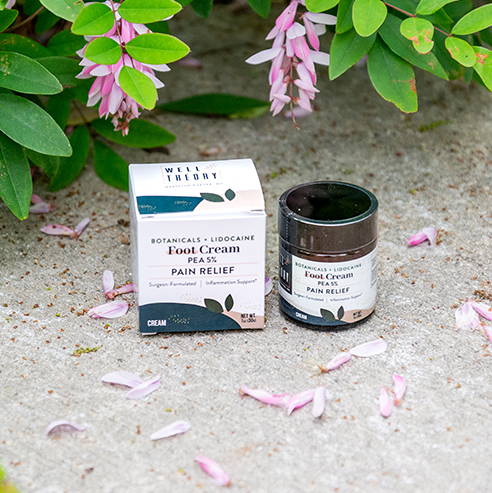 Our pain-relieving cream pairs perfectly with our surgeon-designed footwear!
Choose our  pain-relieving foot cream with PEA (Palmitoylethanolamide) for easy relief from muscle pain and sensitivity.
Simply spread a thin layer of our cream over the area you are experiencing pain and massage it into the skin - then let the 'magic' happen. The active ingredients in our product will sink easily into the skin and alleviate your sensitivity while leaving a light, pleasant smell.
Allow 5-7 days to feel the full effects of these ingredients! Natural medicine is usually very safe, but because the treatments are safer, they are also more gentle and take a bit more time to work.  
---
---
As of Wednesday, February 19, all of our footwear runs true to size - so order the size you typically wear in sandals and flip flops. But what if the size you order doesn't fit? Don't worry! We are here to help you find the perfect size and fit for you.
Just remember - the Everett is only available in narrow sizes.  
Exchanges are simple. Simply follow the instructions for an exchange on our website, and we will have your new size sent to you as soon as possible.
Not sure what size you need? Just email photos of your feet in the flip flops, preferably from a side view, to support@thehealingsole.com. Our support team will review these images to determine the best size for you.
---
---
We take the risk out of trying our product with our 30-day satisfaction guarantee. Once you receive your order, take full advantage of your thirty days to ensure that The Healing Sole works for you.
Don't be dissuaded if you believe the flip flop is too firm! Most soft and squishy "comfort" shoes do not last long and also don't provide the structure necessary for full natural healing (per Dr. Warner's opinion). Structure is very healthy for long-term foot function.
Expect this footwear to feel very firm when first used. This firmness should last for a week or two. In addition, this flip flop will last longer than the typical open-cell foam shoe that is squishy.  
While some wearers experience relief right out of the box, this is not the same in every case. Be aware that our product has a 7-14 day break-in period. Don't rush your recovery! Start slowly, wearing your new footwear for just a few hours in the morning and evening. In the afternoons, switch to another pair of supportive shoes. Over these 7-14 days, The Healing Sole will adjust to your individual foot type and walking pattern.
The break-in period is very important. Dr. Warner designed The Healing Sole with material of a specific structural support that often feels firm to new users. Once this material breaks in, however, it allows the footwear to function as designed. Because this is such wonderful material, The Healing Sole will also last much longer than most others flip flops or sandals do.  
If these 7-14 days pass and you have not found relief,send them back to us using our easy returns portal, and email us at support@thehealingsole.com with any questions.
*Please note that our pain-relieving cream is only eligible for a refund if returned unopened within our 30-day guarantee.